Dukes Fights For Reputation And Job
Christopher Dukes has faced a number of charges after his wife, Christine A. Berenbach, accused him of attacking her. According to police reports, Dukes was arrested for two counts of first-degree kidnapping and strangulation, third-degree assault, second-degree threatening and breach of peace.
Despite the charges being dismissed this past November, Dukes is still working to clear his name and return to a normal life. Since his termination from Central Connecticut in December 2018, Dukes has been unemployed thus leaving him to rely on the financial support from the Justice4Dukes Coalition.
During a court hearing, on Nov. 14, 2019, State Attorney Vicki Melchiorre stated Berenbach did not want to see Dukes go to jail "for the sake of her children," therefore the state would no longer be pursuing the case. Berenbach's attorney Frank Romeo III did not respond to requests for comment.
Although the case did not make it to trial, there is DNA evidence and records from the night of the incident that contradict the claims made against Dukes.
The timeline on the night of April 24, 2018, illustrated by Berenbach, indicated that Dukes attacked her suddenly, dragged her into their basement to then bound her with duct tape and forced her to confess to having an extramarital affair, which she denies. When she later escaped, Berenbach reported to Hartford police at 11:59 p.m. that Dukes, who she described as a large, drunk black man reported to the 9-1-1 dispatcher, was trying to kill her and himself while heavily armed.
Berenbach reported the attack took place between 10 p.m. and 12 a.m..
Dukes believes that Berenbach had attempted to swat Dukes the night in question. As defined by the FBI, swatting is "calling 9-1-1 and faking an emergency that draws a response from law enforcement—usually a SWAT team."
In the initial police report, Berenbach reported that pre-cut strips of duct tape were used by Dukes to bound her while in the basement.
Over a year after the events of the night, the DNA reports concluded Dukes was "eliminated as the source of the DNA profile" from the first strip of duct tape collected. DNA tested from the second strip of duct tape indicated that there were three mixtures of DNA found, it likely being Berenbach, Dukes and unknown sources.
Both strips of duct tape suggested Berenbach's DNA was predominantly found on them.
"That DNA test confirms there is only one person in the world who could've taken that duct tape off the roll, crumpled it up and put onto the ground for the detectives to find," Dukes stated in an interview with The Recorder. Dukes suggests that Berenbach placed the duct tape in the basement, citing not only DNA evidence but the time frame leading up to its discovery on April 25 as well.
Dukes was escorted off of his property by Hartford Police close to 3:25 a.m. The duct tape was gathered around 6 a.m., leaving a roughly three hour gap that included a point where Berenbach was alone in the house with Hartford Police, as highlighted by footage taken from Dukes's front door camera. Following the incident, Dukes was transported to the hospital for testing, resulting in a toxicology report, that was shared with The Recorder, which revealed his blood alcohol content showed no signs of intoxication.
"They had to hide it to protect the Hartford Police Department, who after I left my home voluntarily at that point in time, this crucial evidence was planted either with their knowledge or with their negligence because it is the only time it could've happened where this duct tape evidence was planted," Dukes noted. "Why would you have to plant evidence if you weren't framing someone?"
Berenbach also reported to police that she had vomited in the basement following Dukes assaulting her. When doing their first search of the basement, no such evidence was found at the scene of the crime.
Phone records from that night also defy some pieces of Berenbach's timeline, showing Dukes' mother, Viola Dukes, was the only person in contact with the two parties prior to Berenbach's 9-1-1 call; the three spoke for approximately an hour until Berenbach left the room close to midnight.
Berenbach said at a family court trial on May 8, 2018 that Viola Dukes had asked Dukes to "please come out of the basement and go back upstairs."
Berenbach also claims to have told Viola Dukes that she did not feel safe and was injured by Dukes during the incident.
Contrary to Berenbach's story, Viola Dukes disclosed in a witness statement that the three of them discussed Berenbach's extramarital affair, in which Berenbach apologized for doing. Viola then offered to visit the house that night, but Berenbach declined because the couple was okay, according to Viola Dukes.
"Christine never said anything about being kept in the basement or hurt by Christopher. I never had to convince Christopher to release Christine. He never said anything about suicide," Dukes's mother stated. "The two of them sounded as if nothing happened between the two of them. No one was crying, yelling or sounded upset in anyway. I knew the kids were still asleep upstairs."
Viola Dukes has had no contact with Berenbach or her grandchildren since the night of the incident.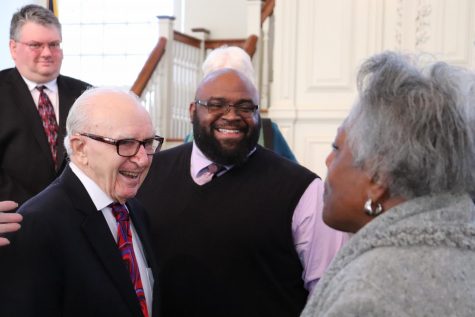 Dukes has also had limited contact with his children, receiving only two hour visitations per week. This has been one of the many outcomes from the night of the incident, along with losing his employment at CCSU.
Dukes's termination from CCSU went in full-effect on Dec. 26, 2018, after the university cited the off-duty behavior conducted in the police report as the main reason of removal.
During his hearing, Dukes presented the university with evidence supporting his innocence, including recordings of interviews, call logs from the night of the incident, photographs and other supporting documents. But the board claims Dukes's evidence did not mitigate any of his actions from that night.
Dukes has since begun to counter his termination, claiming the university's decision was rooted from the inaccuracy of the police reports and that the action was taken prior to the court's motion to dismiss the charges.
"At the time of his dismissal, Mr. Dukes was a long-standing and active member of the State University Organization of Administrative Faculty (SUOAF) union. Article 20 of our contract is clear on the process to be followed when management moves to terminate an employee and it is our stance that that process has not been followed," Lisa Bigelow, CCSU SUOAF Chapter President, stated.
"We continue to take measures to defend Mr. Dukes's right to due process, seeking a remedy that includes reinstatement to his SUOAF position," Bigelow added.
According to Janice Palmer, director of public relations, the university will not comment on Dukes's case as it goes through the arbitration process.
"CCSU and the Board of Regents had ulterior motives for removing me from my position to prevent the disclosure of mismanagement of sexual misconduct cases," Dukes stated. "They almost got me, that was what the plot was. But through the grace of God while going through this process, we fought it."