Swim & Dive Falls Short At Northwestern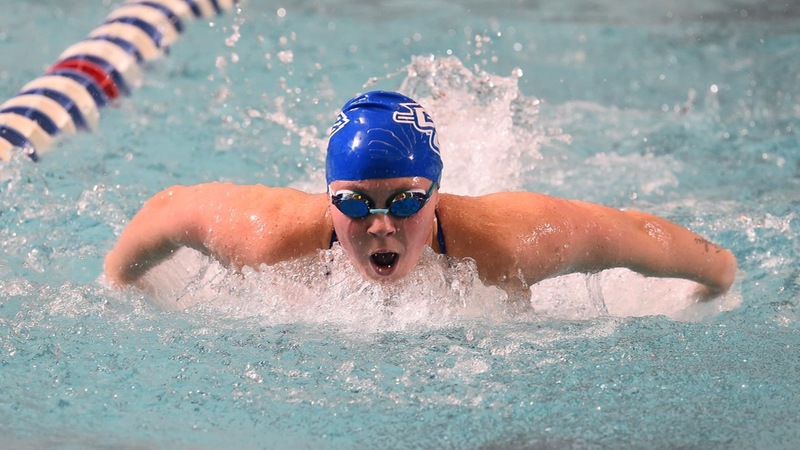 Gabriel Anton, Reporter
January 27, 2020
As Central Connecticut State is kicking off a new semester with new buildings, classes and friends, Central's Swimming and Diving team is still in the throes of their winter season, returning with a dual meet hosted by Northeastern on Saturday at noon.
The team's last meet was on December 19th, where they faced Southern Connecticut State University and won with a score of 101 to 66. They faced much tougher competition against Northeastern falling with a score of 184 to 105, but they didn't go without a fight, knocking down key performances in the usual strong events, placing in the top three in 12 of the 16 events, and winning four, including a first diving win.
With each event having roughly five to seven participants, almost everyone who did participate gained points for their respective University, but the game was now a battle for the top three. Central faced hard resistance from their opponents as some of their best events were stolen away, yet they shined in key moments and didn't take this as a fall from grace, but as a showing that they have been ready to continue on their already stellar semester.
In the freestyle events, a recurring strength in the CCSU swimming team, Central made the leaderboards, yet Northeastern edged them out of the top spot in almost every event. This with the exception of the 500-yard freestyle, in which senior Erika Maercklein took the spot, following by senior Grace Fredericks in fourth. The 200-yard freestyle was taken by Czulewicz, senior Grace Regan and sophomore Simona Visinski with the second, fourth, and fifth spots. Senior Ivy Milne brought home third in the hefty 1,000-yard freestyle.
A lukewarm freestyle performance didn't halt the momentum as Perrin, Czulewicz, King, and Visinski took the second spot in the 200-yard freestyle relay.
Sophomores Alex Lindgren, Mariana Espino and freshman Abby Bacon took the top three spots in the 200-yard Individual Medley.
Lindgren and Regan grabbed the first and third spot in the 200-yard breaststroke, an event that has seen a certain degree of fluctuation in past meets. This was Lindgren's second win against Northeastern. Espino, junior Katelyn Mann and Bacon took home the third, fourth, and fifth spots in the 100-yard breaststroke, getting in that top three.
McMahon, a strong backstroke performer in past meets this semester, placed third. McMahon helped in the tough butterfly events as well, placing fourth under Welcome (third) in the 200-yard event. Welcome took second in a battle separated by two seconds, with fellow teammates Mann and Brown placing fifth and sixth to round the group off.
A great success for the diving team occurred when all three divers secured the top three spots in the one-meter diving event. The participants were seniors Reagan Kenney, Kirsten Bednarz, and newcomer junior Rachel Pinsky. To complement their success, they placed in the fifth, sixth and seventh positions in the three-meter diving, rounding off the Blue Devil's performance as valiant, yet challenging.
The fall to Northeastern won't shake Centrals team as they prepare to grace the pools again against LIU on Saturday, February 1st at 1 p.m.