Women's Basketball Wins Close Game To Earn First Conference Victory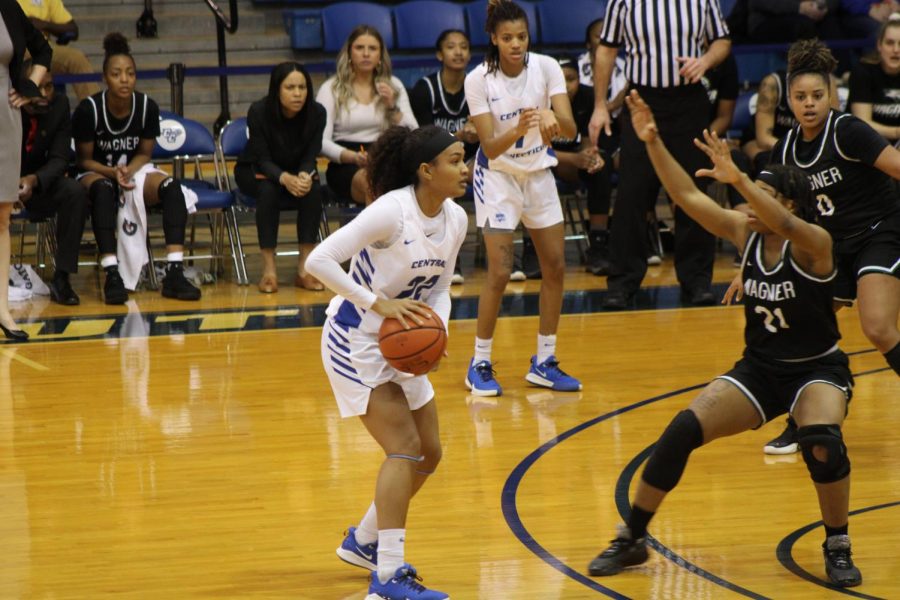 The Central Connecticut women's basketball team pulled out a nail biter over Wagner College, winning 66-63 to earn their first Northeast Conference game of the season. The win also ended a seven-game losing streak.
The Blue Devils led by as many as 17 at the start of the fourth quarter before scoring the final four points to pull out the win. Junior Ashley Forker led the team with 23 points, while Ashley Berube and Emma McCamus each added 12 points.
As head coach Beryl Piper is on administrative leave, CCSU is being led by coach Kerri Reeves. Reeves was impressed with how the team performed in her first home game in charge.
"I think the kids played really hard with attention to detail. We have put a new offensive set in that was pretty effective for us," Reeves said. "Sticking to the game plan and having success with the game plan is something that we have struggled with throughout the year being down and coming back from that is huge for this team. We have the talent, it's nice to put it all together and get the win."
Reeves spoke of a team meeting in which they spoke about being the best teammates they can be.
"After last weekend's round trip, we talked about being the best teammates we can be. Being consistent with our efforts and energy," Reeves said. "Our bench has been great, we need everyone on this roster to win games and I think we played really gritty today and that creates a sense of togetherness. The bench was great today they were up and engaged and as you said if someone fouled or was on the floor they rushed over and helped pick them up."
Forker scored in double points for the 10th game and was the top scorer for the Blue Devils. She also added four assists and said that they felt like they deserved this win.
"I think it is so important, we have been grinding so hard for so long," Forker said. "It feels pretty deserved, I say that in a humble way because we have been working so hard and it can start a snowball effect."
During the second quarter, CCSU outshot Wagner 23-9. Central was all over the court playing a pressure defense that took the game to Wagner and allowed them to turn the ball over consistently. It also allowed the Blue Devils to hold Wagner scoreless for five minutes. Throughout the game, Central forced 22 turnovers on the Seahawks. Reeves credited the turnovers as one of the major ways that the Blue Devils turned the game in their favor.
"It's the power of momentum, you get 1, you get 2, which becomes 4 and then it turns into 17 points," Reeves said. "That 2nd quarter was huge for us, huge for our confidence and huge for momentum."
In the opening minutes of the fourth quarter, Wagner scored five straight points to cut the lead to 49-47. This was as close as Wagner got until the Seahawks scored with 22.3 to play to go-ahead 63-62. Berube hit two foul shots with 14 seconds left to put CCSU ahead by one. Forker then added two free throws with six seconds left for the final margin. This means that Berube has scored double-figures in 10 straight games and 14 times this season.
Reeves was pleased that the team was able to hold on for the victory that they believed they deserved.
"I'm so happy for them, they deserve this win so much," Reeves said. "I just think we were prepared and ready and we knew that we could win this game and there was nothing that was gonna get in our way today."