Success Central's Initiative To Boost Retention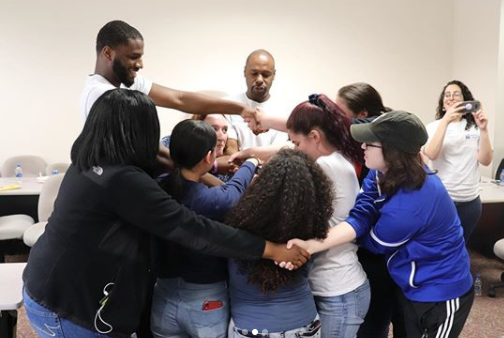 For those freshmen and sophomores who didn't do so well last semester and need a GPA boost, consider getting a free peer mentor this semester through Success Central.
Success Central began in 2014 when the former Provost Carl Lovitt issued a proposal for a grant to begin the program. The proposal addressed graduation numbers and retention rate of Central Connecticut students in under-represented groups.
Dr. Reginald Simmons, a criminal justice professor at CCSU and the coordinator of Success Central looked into his department's statistics and realized that a number of the under-represented students were pursuing majors in criminal justice.
"I thought, 'My department is serving a lot of these students that are not graduating and persisting at the same general rate as the student body,'" Simmons said. "'I'm gonna propose something that might address that.'"
Dr. Simmons then researched multiple methods of keeping up retention and promoting success, and found two that he liked and wanted to combine.
"One: peer mentoring. Peer mentoring at universities has been demonstrated repeatedly to work really well for all students," Simmons elaborated. "Then I came across another intervention called college success coaching. This is an intervention where post-graduate professionals support students to meet their goals. What's unique about success coaching is that they address the academic and the non-academic factors that can affect student success."
This combination of peer mentoring and success coaching is the basis of Success Central. Trained juniors and seniors at Central mentor freshmen and sophomores through the struggles of college and act as a support system.
The mentor and mentee will typically meet once per week and discuss what's going on in the mentees life. Not only about academics, but also their home and social life.
The mentee and mentor also work together to set goals for the mentee. These goals range from being more social on campus to implementing new study habits or even ways to spend less money.
The appeal of Success Central is that the mentor was in the same position as the mentee not long ago, therefore it's easier for them to relate. When a mentee is stressed over finals, the mentor can relate and they can help each other through it.
"I think that is a unique aspect of this program that is different than traditional success coaching programs where you're talking about post-graduate professionals that are not students," Simmons said. "They may make a difference, but there's something about having that student that's still going through it that really helps that relationship."
A survey assessing the mentees comfort with the campus and confidence in their academic abilities is administered  in the beginning of each fall semester and again at the end of the spring semester.
Four questions on the survey saw significant statistical change. These items were: "I am confident in my study skills and my abilities to succeed academically," "I manage my time well," "I can persevere through the challenges of my major" and "I understand how I can connect my current major with future career opportunities beyond graduation."
Although the focus of the program is helping freshmen and sophomores become acclimated to college, Success Central is beneficial to mentors too.
"There's the personal benefit that students have an increase in their efficacy and believe that they actually can help somebody, adding value to their educational experience," Simmons said. "But then the other side is it seems to have helped students stand out in the job market as well. This year actually I'm gonna start collecting some data, probably through focus groups that can get more at how the mentors benefit."
Mentors also learn leadership skills by planning a get together for the mentors and mentees at the end of each semester, completed with games, team building exercises and food. The only contribution Dr. Simmons makes is ordering the food the mentors tell him to order.
"That was their idea to have end of the semester get-togethers," Simmons said. "The idea was that we need some way to bring everybody together. To celebrate the mentees, the mentors, to have them all come together as a group and to kinda celebrate Success Central and to do something for the whole cohort."
Simmons and some mentors have gotten to travel to two national conferences to present Success Central, the most recent one being to New Orleans this past semester.
"I actually worked with mentors to actually write a paper that was published and present that paper at conferences," Simmons shared. "The mentors were so proud of themselves for being able to give a high quality presentation in front of a large audience. It was a lot of work, but they got a lot out of it."
Success Central is always open to new mentees if any freshmen or sophomores feel they would benefit from having a peer mentor. They will also be actively recruiting mentors in March, but anyone interested in being either a mentor or a mentee should email [email protected].