Men's Basketball Drops Two Away Games
Hang on for a minute...we're trying to find some more stories you might like.
Central Connecticut men's basketball continued showing signs of growing pains in the early season this weekend, falling to Massachusetts and Arizona State by an average of of 43.5 points.
Only one Blue Devil scored in double figures over the course of the two games, with freshman Greg Outlaw putting in 12 in CCSU's 89-43 loss to Massachusetts.
The freshmen class, accounting for seven of the team's 12 players on roster, have gotten the most usage through this early stretch of games. Three rookies are in the top four of minutes per game for the Blue Devils, with Jamir Reed and Outlaw ranking one and two, respectively.
The young guards in particular have taken advantage of their high usage rate, with Outlaw, Myles Baker and Trey Tennyson leading the team in scoring through four games.
Six-foot-six junior Stephan Ayangma cleaned the boards off the bench in the two games, grabbing six and four rebounds, respectively. He's also making half as many shots as he's talking, shooting at a 52.9 percent clip that ranks first on the team by about 13 percent.
The free throws were again a problem for CCSU in its two games. Both nights out, the Blue Devils were unable to crack the 60's in free throw percentage (58.3 and 52.4 percent, respectively). The team's average is down more than seven percent from it's Northeast Conference record 78.2 percent last year.
On offense, the Blue Devils looked stifled by the defenses they faced. The ball movement was not flowing against either team, resulting in 43 turnovers and an average 31.5 field goal percentage over the span of the two games. The assist average has also told the tale of the offense this season, as the team has combined for only 11 assists a game.
With the return of Ian Krishnan into the offense looming as the season continues to progress, the extra passing IQ will be extremely beneficial to the young and iso-driven offense.
After having a strong offensive season as a junior, Jamir Coleman has been under a bit of a cold spell to kick off his senior campaign. After shooting 34 percent from the arc last year, his 25 percent clip this year should be on the up as he gets himself adjusted into this year's lineup.
Baker put up six points to go along with his four rebounds at Massachusetts, but was withheld from the game against the Sun Devils for reasons not yet known.
The Blue Devils will be back home and back in action Tuesday as they take on New Hampshire. The Wildcats are on a two game losing streak heading into their match up with CCSU.
Their road trip this weekend won't be a far traveled one, as Central Connecticut takes part in Air Force Reserve Tip-Off Tournament at Mohegan Sun. CCSU will be facing off against Vermont Friday, then will take on one of Columbia or Rider on Saturday the 24.
About the Writer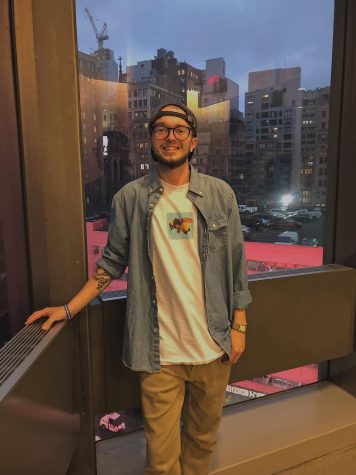 Ryan Jones, Sports Editor
Ryan Jones can be reached at ryan.michael.jones@my.ccsu.edu