Volleyball Clinging To Final Playoff Spot
With one week remaining in the regular season, Central Connecticut volleyball continues to fight for a playoff berth. Over their weekend of away games, the Blue Devils picked up a win and pushed the undefeated Robert Morris to five sets, the first time a team has done as such this season.
CCSU kept things close in the first two sets, but were unable to pull away with victories. They even came within two points of securing the second. Still, the Blue Devils saw themselves nearing a sweeping elimination after an early start from Robert Morris.
The momentum was pushed back in Central's favor for the ensuing two sets. Robert Morris hit its two worst percentages of the match (.128 and .116) as CCSU was able to put together their two best. Junior Emma Henderson scored six kills over the third and fourth, helping elevate the Blue Devils to wins that tied the match. The outside hitter scored her 12th double double of the season, landing 11 kills and 17 digs.
In the winner take all fifth set, the Colonials quickly jumped out to a 8-3 lead. CCSU was only able to close within four of RMU as they lost the set and match. On the path to Robert Morris' unbeaten 13-0 record in the NEC, no team has pushed the Colonials to five sets before the Blue Devils did Friday.
After a tight loss to the Colonials, the Blue Devils were hungry for a win against Saint Francis University. Eager to get back their playoff spot, CCSU defeated SFU earlier this season in a 3-1 victory.
After dropping the first set, Central did not falter through the rest of the match.
Earlier this season, the Blue Devils struggled closing out sets. As the year has progressed, CCSU has improved in the clutch, as showcased against SFU.
SFU was able to draw close t0 Central's leads, but strong play from Central's front helped secure victories.
Senior Madelyn Kaprelyan stuffed the stat sheet once more, notching her fifth triple-double of the season with 10 kills, 21 assists and 16 digs.
With the win over SFU, the Blue Devils still hold onto the fourth seed in the NEC standings, holding the tie breaker over similarly 9-5 LIU. While their playoff spot is secured for now, the final stretch for the Blue Devils could be the hardest yet.
The Blue Devils will be finishing off the regular season against two of the teams ranked above them in the standings, Bryant and Sacred Heart. CCSU was unable to beat these two teams in their previous matches this year, but will most likely need at least one win to secure their playoff spot.
As head coach Linda Sagnelli alluded to a few weeks back, every point in every remaining game matters in this final stretch of games. This final week will prove to be "exciting volleyball to watch," Sagnelli said.
About the Writer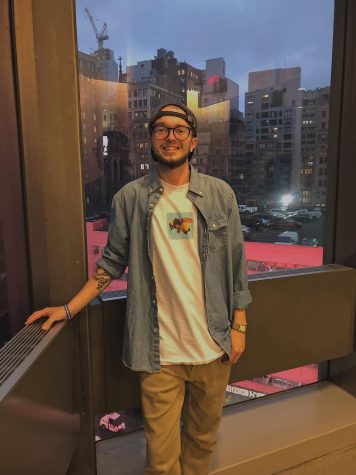 Ryan Jones, Editor-in-Chief