CCSU Works To Normalize Discussing Death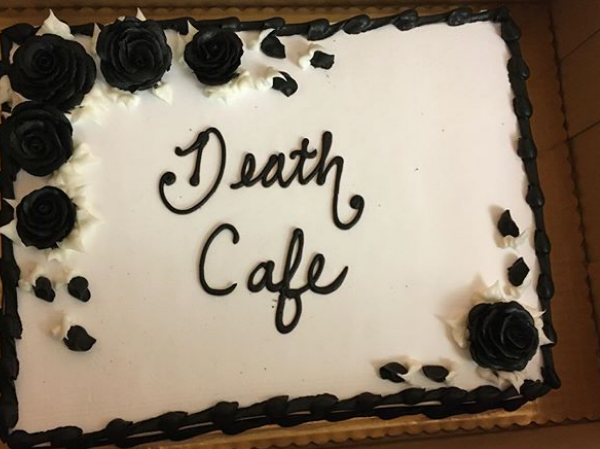 It's not traditional table manners to discuss death over tea, but at Central Connecticut's first Death Cafe the topic of dying was welcomed and is normalized in conversation.
Featuring hot beverages and choice snacks, students and faculty of the campus were invited to talk about death and all of the factors that come with it. The gerontology club hosted the event, who focus on promoting aging and raises awareness of aging issues. To them, it was important to create an event such as this because they believe that no matter who you are or where life may take you, you will have to deal with older adults in some form or another.
"By creating a place where you can come and actually talk openly about it, it can provide that support system for those that want to talk about it, but they're in situations where they can't," Hannah Rodrigues, a member of the gerontology club said. "I wanted to bring it here and open that up to younger people like college students to raise that awareness, because [death is] inevitable, and I feel like [a Death Cafe is] a great experience to help anyone in any stage of life."
According to the book "Pathologic Grief: Maladaptation to Loss" by New Haven Psychiatrist Dr. Selby Jacobs, up to a third of people directly affected by the loss of a child or spouse will suffer negative effects on their mental health. However, it can be beneficial to have a safe environment to discuss death and grief. This was the thinking that the Gerontology Club had in mind when putting together the Death Cafe.
Rodrigues got the idea to hold a Death Cafe at Central after attending one herself off campus and becoming inspired by it.
"I actually attended [a Death Cafe] when I was at a gerontology conference," Rodrigues said. "I thought it was very insightful and powerful because it's something that we have trouble talking about and it's really kind of unheard of."
As part of the discussion of death, everyone was handed an agenda listing what to expect of the topics and conversation starters.
Conversation starters included "What factors in your life lead you to feel about death the way you do?" and "How do you think the media has influenced our view of death?"
The agenda also featured quotations to ponder
These included "The truth is, once you learn how to die, you learn how to live" by Mitch Albom and "Death helps us to see what is worth trusting and loving and what is a waste of time" by J. Neville Ward.
The Death Cafe allowed for those in attendance to share personal experiences, from watching their loved ones die or having a near death experience themselves.
Rodrigues hopes to to have many more Death Cafes at Central in the near future. Following the event, she called the first session a "success," and believes it will become something people will enjoy for years to come.