Center For Africana Studies: The Drumbeat Of Central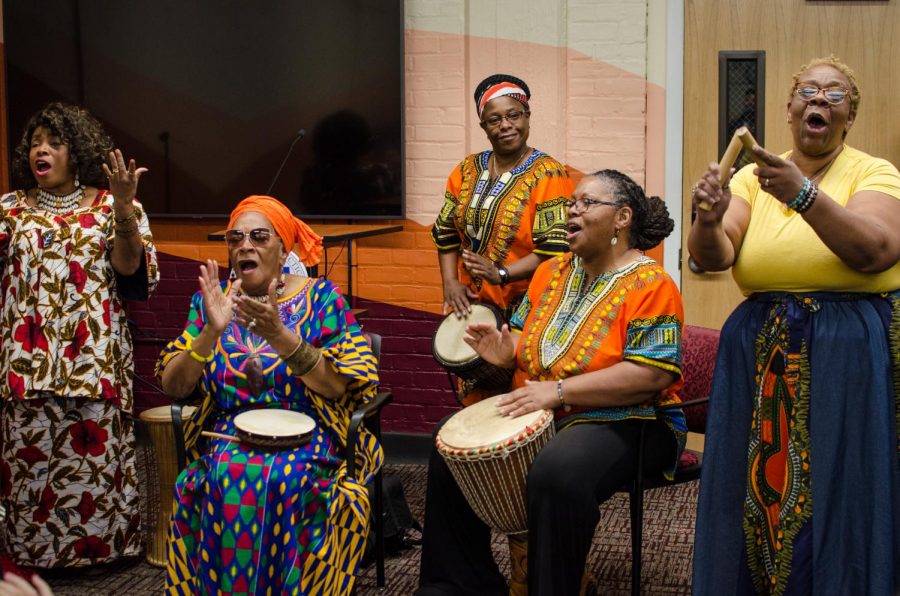 The Center Africana Studies at Central Connecticut welcomed a newly refurbished space during a ribbon cutting on campus, in which members of the community were invited to join.
"We stand here in recognition of the need for spaces that provide a safe harbor and challenge in time for everyone who enters," Dr. Evelyn Phillips, Director of the Center of Africana Studies said. She explained that their mission is to engage and educate the community about Africa and its people and retain graduate students.
The ribbon cutting was followed by the calling of ancestors along with a participatory drumming led by Lance Kamau James and four different blessings –a libation ceremony, a Christian, a Bahá'í, and an Islamic.
The center is a connection to the past of CCSU; in the late 1960s, students of African descent protested for the life of black students, faculty and black studies. They join others in part of a nation-wide effort to bring diversity to American campuses.
"We want the university to embrace all humanity and understand in the contribution that we educate everyone to their fullest potential," Dr. Phillips said.
The center represents the vision of those who came before and a recognition to the ones that have made it possible. Some of which including Ebenezer D. Bassett, the first African-American student that graduated from CCSU in 1853 and Carolyn Anderson, the first African-American woman to graduate in 1896, which was the same year as Plessy vs. Ferguson.
Multiple people stood up and expressed their thoughts about the center and the renovation during the ribbon-cutting ceremony.
"This is wonderful. This is astounding. This is history in the making," Dr. Felton Best, a philosophy professor, said. "We are such a great family. We applaud everyone that came and all that are going to be coming in the future, and all of the future scholars that are going to get their doctorate and make a mark for the institution and Africana studies."
With the new space, the center will be able to continue to educate, spread and develop the study and culture of African people throughout the world, as well as their social, economic and political systems. They offer and organize programs, conferences, activities and events during the year to contribute to this understanding. Their door is always open to anybody that needs a safe place.
The Africana Center emphasizes they are not just for students of the African diaspora; it is for everyone at this institution.
As President Dr. Zulma Toro said "to be a steward of our community is one of our main pillars," and "the center gives us a perfect example of how we can accomplish that."
"The Center serves as a hub for community engagement, bringing the community to CCSU," Dr. Toro added.
The closing ceremony ended with another musical performance by Nzinga's Daughters and drumming by Lance Kamau James.
"Don't let this be the last time you are here," Dr. Phillips said. "Remember, we want this Center to be the heartbeat and the drumbeat of Central."