Farmington Farm Truck Encourages Buying Local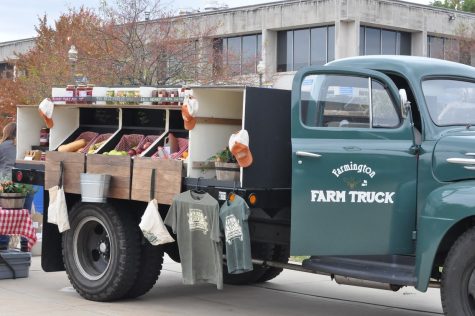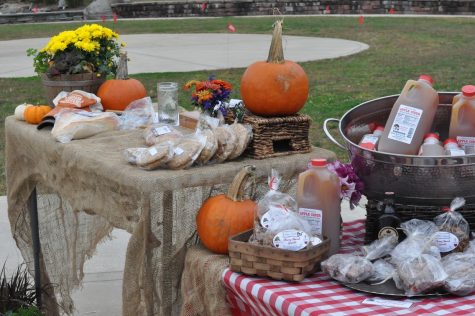 Central Connecticut welcomes the Farmington Farm Truck to offer locally-sourced, quality food products. The green truck was parked in the Student Center Circle offering apparel, snacks and homemade products to the campus community.
According to Jen Villa, owner of Farmington Farm Truck, there is a vast difference between a food truck and a farm truck. While food trucks often serve non-locally grown food such as burgers, tacos and pretzels, a farm truck serves as a mobile farmers market, offering freshly grown fruits, vegetables and baked goods. In addition, the farm truck was an actual antique truck from the 1950's.
"This is a '52 Ford named Violet Mae," Villa said. "I [also] have a '54 Chevy [named Jessie Jane]. Back in that time, there were a lot more farmers that did drive around and do this. People love the antique trucks, and they drive and everything."
Each Farmington Farm Truck has a name. Along with Violet Mae the Ford and Jessie Jane the Chevy, there is also Betty Lou, a 1948 Dodge. Though she is an older model of a truck, she doesn't travel much anymore, but she is still part of the Farmington Farm Truck family nonetheless.
Since it's autumn, last week the truck offered fall foods such as apples, pears and squash. They also had apple fritters, apple cider, granola, canned pickles and fresh baked bread. All of the produce and food available was grown and produced in Connecticut. The truck sells food from farms in Southington, Torrington, Glastonbury and several other cities and towns all throughout Connecticut. Some of the food is grown by Villa herself.
"When you buy from the local farmer's markets, you're keeping your neighbors in business," Villa said. "And the food is fresher, it tastes better and it's better for you."
Along with those benefits, Farmington Farm Truck's website mentions that when you buy from local businesses you keep the money in your local economy, rather than giving it to a huge corporation.
Farmington Farm Truck visits a wide variety of spots around Connecticut, such as UCONN Health Center, Eversource and the Hill-Stead Museum. They found their way to Central Connecticut because admittedly, younger people such as college students don't take into account the benefits of buying from local businesses.
"We go to all different locations, some college campuses, a lot of business locations just trying to get people to try and love all of this locally grown food," Villa said. "A lot of younger kids don't realize where their food comes from and don't really think about it, but it's important to support all of your local businesses."
This is Villa's third season with Farmington Farm Truck and she recently made an appearance on Better Connecticut discussing the business and the importance of supporting local businesses.
Farmington Farm Truck will be looking to hire college students for internships next summer, so any students interested in farming or looking for an internship in general should be on the lookout for those. You can find Farmington Farm Truck online at farmingtonfarmtruck.farm or on Instagram @farmingtonfarmtruck.