New Britain Community Leaders Address City's Issues Prior To City Election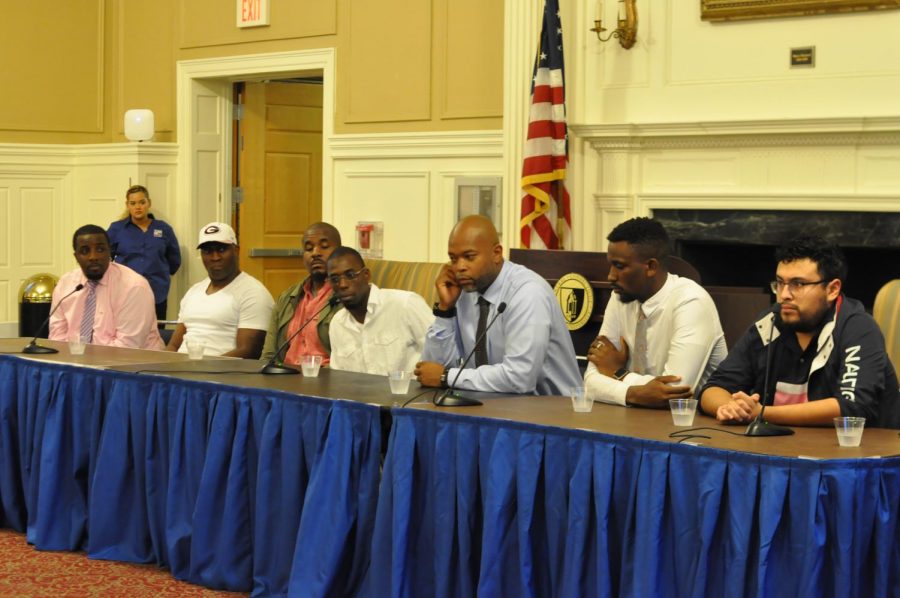 A group of New Britain's influential, male community leaders joined together to address a number of issues in which they believe the city is currently facing along with their ideas on how to resolve the obstacles at hand.
Those on the panel included independent New Britain mayoral candidate Deivone M. Tanksley, democratic New Britain mayoral candidate Chris Porcher,  community organizer Victor Constanza, local business owner Johnny Turner, warden for MYI Prison Derrick Molden, and community leaders Tyree Hughey, Stephan Palmer and Timothy Conaway.
The public event was mediated by Central Connecticut's Student Government Association.
During discussions, the men emphasized that many of the issues, such as New Britain's high level of violent crimes and the economic development/ job creation within the city, were not being approached the right way. They claim the best way to approach the situations is by helping younger generations and prevent them from creating bad habits.
"I work with over a thousand kids in the past four years and every kid has told me, 'I get put in programs I don't want to go to, I get forced I," Palmer stated. "The city needs to do forums like this in different high schools, middle schools and find out what programs kids want so they're not forced to do it."
As the head of a youth program for Hartford and New Britain youth, Palmer witnesses firsthand how children are easily influence and impacted by the community around them, calling it a "vicious cycle," that they often end up in.
Molden adds that the city should invest in its youth through education.
"If you are going to actually look at a problem you cannot miss education, it's a generational curse that kids are trying to break out of these barriers from," Molden stated.
"The problem lies with the education system. If you don't know how to succeed in life you will not move forward, nothing else will ever matter until that gets solved," Molden continued.
Some panelists claim that New Britain government and CCSU should make it a priority to improve the education and comprehension of the city's students in order to help make post-secondary education on option for all residents.
"If you're graduating from New Britain High School, it's likely you can't even compete to get into Central," Porcher stated. "A lot of our kids don't have behavioral issues or education issues because they don't have the abilities. We really need to change our curriculum to support social and emotional learning."
As the forum continued, mayoral candidates Tanksley and Porcher spoke on behalf of their campaigns and pinpointed how exactly they would be most suitable for the position as the mayor of New Britain.
Tanksley proudly claims he is running as an independent candidate because he argues a politician is not what the people of New Britain want.
"I'm not a politician, a lot of people have lost hope in that word politician. When you throw out the words like democrat and republican, it doesn't matter if it's the good or bad ones, a lot of people shy away because they lost hope in them," Tanksley explained.
He argues that as an independent candidate he can bring forth solutions for issues in New Britain that people want to see fixed.
Porcher countered that as a democratic candidate he wants to encourage community members to learn how their local governments in order to help them create a system they are looking to have.
When people are better educated on the system then they will know to vote for the people they believe over political party status.
"We need to look at both sides," Porcher stated. "We have to look at better developing our kids, give them better resources and at the same time protect our local business owners."
Along with promoting more minority businesses and job opportunities within the city, Porcher is in support of people wanting to challenge and change the system in order to achieve better minority success.
With the mayoral debate approaching, it is advised for registered voters to look into the candidates running in their town election. Those looking to register to vote visit voter registration.ct.gov.
About the Contributor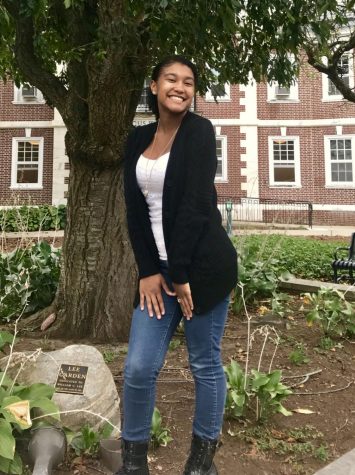 Isabella Chan, Editor-In-Chief
Isabella Chan can be reached at chan2017@my.ccsu.edu.