Football Dominates Conference Opener On The Road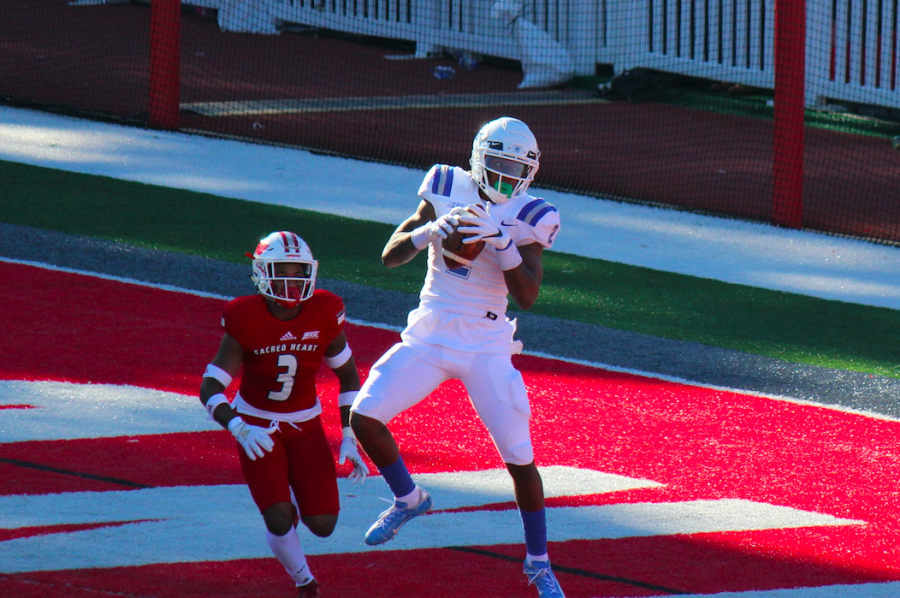 In their first game after the heartbreaking loss against Football Bowl Subdivision opponent Eastern Michigan, Central Connecticut football dominated their conference opener in front of a record crowd at Sacred Heart University. Winning 28-3 behind a great performance from all phases, the Blue Devils are now 4-1 overall on the season.
A school-record 5,402 fans were in attendance at Campus Field Saturday afternoon and every Pioneer fan must have been shocked at the outcome of the game.
"It makes a big statement," junior wide receiver Tyshaun James said. "It's not easy to win a conference game, especially against an in-state rival."
"I'd say they're our rival," head coach Ryan McCarthy said. "I thought our kids played extremely well. It's always good to get a conference win."
Sacred Heart was projected to finish second in the Northeast Conference this season behind Duquesne University and the Blue Devils were projected to finish third.
Despite beating the projected number two team in the conference, McCarthy is not getting ahead of himself.
"They're one of the better teams in the conference," McCarthy said. "It's still a young season, NEC is a league of a lot of parity and we'll see how the whole thing plays out. We have a lot of respect for them, a lot of respect for their staff. It's never been easy, they beat us last year and the two years before that, [those games] were dog fights."
Central was led on offense by receivers Tyshaun James and Danley Exilhomme, who each scored twice.
The defense held a Pioneer offense, which averaged 33.5 points per game heading into the matchup, to just three points on the day.
"Defensively, I thought we were outstanding," McCarthy said. "Great scheme put together by our defensive staff. I thought our guys up front did a great job being physical and stopping the run."
The gameplan against the high-powered Pioneer offense was to disrupt quarterback Logan Marchi and make him as uneasy as they possibly could, according to McCarthy.
"They have some new guys, some really young kids up front so we felt we can control level one and we did."
Central's defense finished the game with five quarterback hits, one sack, two tackles for loss one forced fumble, two interceptions and four pass breakups while holding Sacred Heart to just 238 total yards.
D.J. Exilhomme was the leading tackler for the Blue Devils but the defensive MVP was perhaps sophomore linebacker Aiden Rosa.
Rosa finished the game with five tackles, one sack, one tackle for loss and one interception.
Kendall Coles also secured an interception, bringing his season total to three.
The Blue Devil defense has 11 interceptions as a whole through five games.
On the opposing side of the ball, the Blue Devils were able to dominate in part due to James and Exilhomme, but also in part due to quarterback Aaron Winchester getting more comfortable as the season has gone on.
"I think Aaron has had two weeks in a row where he is a lot more comfortable throwing the football," McCarthy said. "He knows where to go with the football and the ball is coming out of his hands with a lot more velocity. That starts with knowing where to go with the football and trusting the guys."
A guy Winchester and McCarthy have trusted all season is the junior receiver, James.
"He is our bell cow in terms of playmakers," McCarthy said. "Tyshaun is a guy where we are going to hand it to him, we're going to throw it to him, flip it to him, whatever way we can we're going to get the ball in his hands."
"The whole operation is that we got good guys outside of me, we got good backs, we got a good o-line, a good quarterback," James said. "When you have talented players all around, that's hard to stop."
He finished the game with five catches for 74 yards and a touchdown. He also rushed the ball four times for 12 yards and a touchdown. James has nine total touchdowns this season and leads the Blue Devils in all-purpose yards with 461 (92.2 YPG).
Winchester completed 76 percent of his passes (19/25) for 275 yards and a touchdown on his way to being named NEC Offensive Player of the Week.
Exilhomme ran the ball 15 times for 64 yards (4.3 avg) and two touchdowns.
To make this dominant victory more impressive, Central did not have three All-Conference players against the Pioneers.
According to McCarthy, seniors Tajik Begley, Cole Phelps and J'Von Brown are all dealing with injuries.
Bagley is dealing with a concussion but is expected to return next week against Columbia University.
"He was pretty close to playing this week but we didn't want to risk it," McCarthy said.
"Cole Phelps has an ankle, he could be back next week, could be back in a couple of weeks. We're still not sure."
Brown has a shoulder injury and tried to practice last week but he ultimately did not feel right, his timetable to return is unknown.
"It's a little more serious than we first thought," McCarthy said. "We're not going to rush him if he doesn't feel right."
Central has one more road game against Columbia University this Saturday, Oct. 12 before returning home to play four of their last six games at home to close out the season.
Kickoff against the Lions is scheduled for 1 p.m. as Central looks to improve to 5-1 against a 1-2 team in New York, New York.