Dexter Lawson: "It's Me, I'm The Best"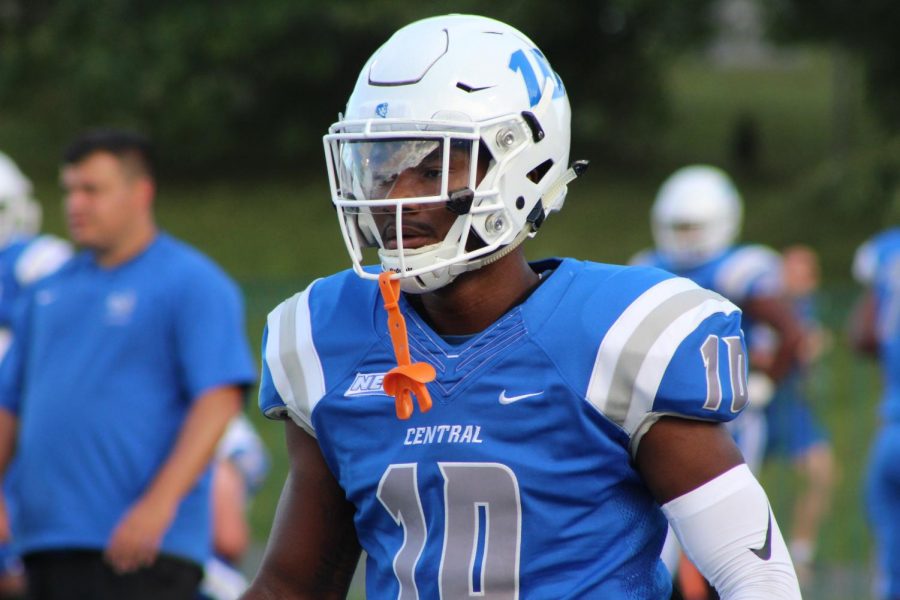 Confidence is a key attribute that everyone needs to succeed, but it's especially important for an outside cornerback who is considered undersized by football standards and is matched up one-on-one on a weekly basis.
"I would say that we're the best secondary in the conference, we're having a pretty dominant season," sophomore starting cornerback Dexter Lawson Jr. said.
Taking it a step further, the 5-foot-10-inch, 180 lbs Lawson knows who the best individual corner on the best secondary in the conference is.
"It's me, it's me, I'm the better corner," Lawson said comparing himself to fellow starting corner Tajik Bagley, clearly not lacking confidence.
"We're both great in our own individual ways, he's more aggressive and he wants his presence to be felt by the receiver and I play craftier, which allows me to bait the quarterback."
Lawson is starting as a true sophomore in a Central Connecticut defense allowing only 315.2 yards per game and 22 points per game. The Blue Devils are also keeping opponents under 100 yards per game on the ground (95 YPG).
As a freshman, Lawson played in 10 games but only saw limited action, breaking up four passes and secured 17 tackles.
"We saw it from his freshman year, he just had two older kids starting over him, but we knew he was going to be good," cornerbacks coach Jesse Goldberger said.
"He's really talented, but he brings it every single day, [this year] he's better technically and stronger from the weight room, he's made himself."
In his first year starting, Lawson is obviously having a career year. Through five games, he's recorded 16 tackles, one sack, three tackles for loss, one forced fumble and two interceptions.
"That's just me learning the playbook, learning the defense and working on my technique to be in a position to be great," Lawson said.
Despite the success this season, Lawson has gone through his fair share of adversity.
Coming out of high school, only the Blue Devils offered him a scholarship. He declined and decided to go to St. Thomas More School for a fifth, post-grad year. Following his fifth year, Central remained the only school to offer Lawson a scholarship.
"During the recruiting process, it was tough because I felt like I was making plays but no one felt it was good enough," Lawson said. "Central still stood by me and ended up being my only offer still so that loyalty was important. If they stuck by me, allowed me to say no to them once and still have an offer on the table, that says a lot about what they thought about me."
Admittedly, Lawson said this has put a chip on his shoulder.
"I'll keep that chip on my shoulder to this day, no matter how good a game I have, no matter how good of a week I have, because I know that someone, somewhere is out there working harder than me," Lawson said.
What makes Lawson such a standout player is not only his play on defense but his contributions on special teams.
He is the leading punt and kick returner for the Blue Devils. Averaging 18 yards per kickoff return and 12.8 yards per punt return.
"It's fun back there," Lawson said. "As a returner, I have great field vision, I know where people are going to be before they get there and I know how to set up my blocks."
Lawson can line up at receiver too if his number was called.
"I used to play receiver, I'm just waiting for my moment for [head] coach [Ryan McCarthy] Mac to put the package in," Lawson said smiling. "Once he does that, you're really going to see some plays and this season is going to be exciting for me."
Jokes aside, Lawson knows his focus is on defense and this is only the beginning. He has to continue to build on the numbers he already has this season to reach his ultimate goals.
"My main focus this year is to get as many turnovers and get the ball to the offense as much as possible while getting the defense off the field as quick as possible," Lawson said.
"My goal is to always be at the top. I want to win the [Northeast] conference, I want to be All-Conference, I want to be an All-American. That's the statement I want to make to the entire nation."
Beyond his goals this season for the team and himself, Lawson has his sights on something bigger.
"Even though that may be years down the line, I'm working to get to the next level," Lawson said confidently.
He is working through combine drills, improving his technique and his strength during the offseason and the sophomore cornerback is looking to make noise in the future.