CCSU Falls Short On Enrollment Affecting Different Departments On Campus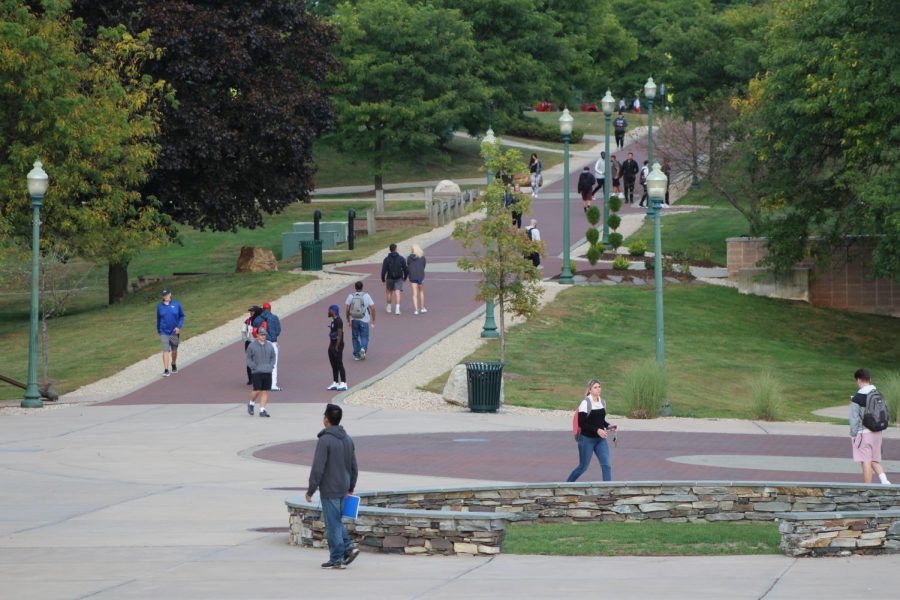 Central Connecticut fell short on fall enrollment this semester, as numbers were down in every category, which affected the amount of sessions and courses taught, as well as the funds from different departments and areas.
This year's numbers are the lowest in the register in the last 44 years of the 2019 Fall Headcount Enrollment; with the total of full and part-time undergraduate enrollment landing just over 9,000, the smallest amount ever.
Combined with the number of students enrolled in graduate school, the total is roughly 11,000; 300 students less than the previous lowest amount in 1978.
The overall decrease is of around five percent from last fall, which was significantly noticed in the lack of beds filled in the residence halls.
"Because students are dispersed all over the buildings, we wouldn't be predicting a reduction in staff at that point," Jean Alicandro said, Director of Residence Life.
However, there are activity fees based on the total number of residents. Therefore, "the student activities budget that additionally funds the Inter Residents Council would have taken about a five percent decrease as well," Alicandro added.
Of the 52 programs at the university, 39 departments have seen a decrease in the students enrolled. With fewer students, a number of changes have been implemented including reductions in revenue, cuts in the budget, reorganization of funds and less sessions and courses taught.
The geography department is down 30 students compared to last fall.
Even though their loss is not as significant as other departments, there "has been a slight reduction in the number of sessions offered for certain classes and slight reduction in number of courses taught by adjunct professors," Charles E. Button, chairperson and professor in the geography department, explained.
Although the biggest program on campus, accounting, lost 82 students, they claim to not feel heavy influence from the low enrollment but did have to make changes due to staffing.
Changes within the staff and the courses were evident. The department normally staffs 10 to 11 sections that students frequently clamor to get in.
Now, they are working on preparing and reserving some additional courses that students do not see right away and that can be brought up if the courses are filling.
"We have to be a little bit more nimble," Monique O. Durant, Professor and Department Chair of the Accounting Department, said. "We're making contracts with fewer adjuncts, because we're able to cover more of the courses that we currently teach with full-time staff."
The department of educational leadership, policy and instructional technology has seen most of their 61 students go in two main places at the graduate level: the master's programs and the sixth year certification program.
"Now we offer less sections of courses in our master's programs and the sections we do offer have a few more students in them," Sheldon Watson, chair and department chair of educational leadership, policy and instructional technology and Ed.D. Director said.
For instance, "a class of 25, as opposed to a class of 15, means more workload for the faculty and not quite as much personalization for the students," Dr. Watson continued.
However, the departments are hopeful and optimistic that this is only a small hiccup for now.
"Our students are employed by the best, the very best firms in the world and in the country," Dr. Durant said, "So we have every reason to believe that since we do offer of a quality product, this is a short term thing."
Faculty and staff also believe it is essential to strengthen and double down the marketing and recruiting program.
"There is a good market out there," Dr. Watson said, "we need to go out and tell our story a little bit more."
In order to increase the enrollment for the following years, new undergraduate programs, such Environmental Geography and Sustainability, are being created.
"The geography department has been doing their best to offer courses and academic opportunities that help students gain the knowledge and skills they need to obtain employment that speaks to their passions," Dr. Button explained.
As President Dr. Zulma R. Toro addressed the low enrollment in her opening speech, she admitted there was going to be struggles in bringing the numbers back up but remained positive.
"We have quite a climb ahead of us," Dr. Toro said.