Football Makes History With Win Over Valparaiso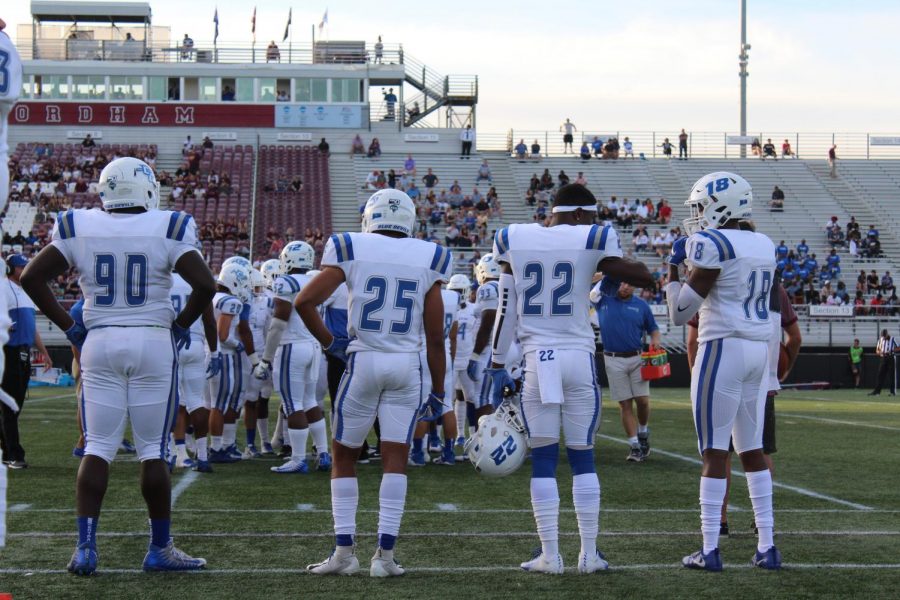 The Central Connecticut football team entered the third week of the season with history on the line; it has been more than a decade (2006-07) since the Blue Devils started the season 3-0. With a dominating 42-13 victory over Valparaiso University, Central has rewritten the record books.
The Blue Devils cruised to their third victory, second on the road, behind a stout defensive performance and a dominant running game.
Centrals defense picked off the Crusaders five times on the day.
Cornerback Dexter Lawson Jr. secured his second interception of the season, cornerback Tajik Bagley got his first, safety Jahlil Brown caught his first collegiate interception and redshirt freshman linebacker Marlon Brown Jr also notched his first-ever interception.
While all four of those turnovers were important to Central's victory, junior cornerback Kendall Coles had perhaps the most impactful one of the game in the third quarter, when he intercepted a ball in the flat and returned it 30 yards for a touchdown.
The Charlotte, North Carolina native got his second interception of the season and his first collegiate pick-six.
With the defensive score against Valparaiso, Central is now only one of two teams with three defensive touchdowns in the FCS.
Although the defense played a big factor in the game, the Blue Devil offense picked it up after being shut out in the first quarter.
The Blue Devils put up 462 yards of total offense (315 yards rushing) and five touchdowns.
Central put together a 300-or-more rushing yards performance for the first time this season after doing so three times last year (at Robert Morris, Bryant and Wagner).
The Blue Devils have recorded over 250 or more yards rushing in all three games to start 2019 and have 844 rushing yards this season. They are on pace to rush for more than 3,370 yards, the most they have ever run for dating back to the 2000 season.
Sophomore running back Keonte Lucas led the rushing attack with 10 carries for 190 yards and two touchdowns.
Quarterback Aaron Winchester followed with seven attempts for 52 yards and a touchdown.
Junior RB Danley Exilhomme ran for 32 yards and a score.
Winchester also completed 11 of 15 pass attempts for 147 yards and one TD. Winchester has 459 yards passing this season and also leads the team in rushing with 252 yards.
Wide receiver Tyshaun James followed his dominant home opener (3 TD's) by catching four passes for 75 yards and one TD. James leads the Blue Devils with 202 receiving yards and five total touchdowns.
"A win is a win.  We started very slowly, but we eventually found our way in the third quarter," head coach Ryan McCarthy said to CCSU Athletics. "The defense did a great job of creating turnovers and the offensive line and running backs asserted themselves in the third quarter."
There was plenty to be happy about for the Blue Devils against Valparaiso University, but it's the little things that can potentially hold this team back. Central was called for eight penalties, the second-most this season and also had a punt blocked for a touchdown.
"What's disconcerting is the fact that we have not corrected our mistakes from the previous two weeks and we have yet to put together a complete game in all three phases," McCarthy said to CCSU Athletics.
The last time Central started a season 4-0 was in 1970. The Blue Devils will continue to try and rewrite the record books as they visit Eastern Michigan this week on Sept, 21.
Kickoff is scheduled for 3:00 p.m. as the Blue Devils continue their four-week road trip.