A New Direction For Student Conduct
The beginning of any semester comes with the arrival of changes and adjustments for the future; for Stephanie Reis it meant adjusting to her new office as the Director of Student Conduct.
The office was decorated with cushioned leather chairs, dimly-lit lamps for a "comfortable vibe" and paintings waiting to be hung up. Reis is ready and prepared to take her plans into action and not just for her new office.
"The last couple years the university has been through a lot of transitions with new people in leadership and departments being changed," Reis shared. "Good change is coming and good things take time but I think we are on the right path for that. We are really here for the students; we want students to succeed."
Starting out as a student worker herself at Reslife during her early college years at Central Connecticut, Reis truly worked her way up the ladder. Over the years, she has found her own success at CCSU, moving from Assistant Director of Student Conduct to filling in as Interim Director of Student Conduct and now holding the position permanently.
During her time as interim, Reis was able to participate in higher-level cases, such as those reported to CCSU Police, sexual misconduct and some alcohol/drug cases. Rather than being scared off by the responsibilities, Reis felt more motivated to tackle the position.
"I'm someone that always wants to keep challenging myself, so even in the Assistant Director role I was already looking to see what I could do next," Reis admitted. "Getting a director role always seemed like the next step to me but I always thought it would be 10 years from now rather than the immediate future. But I've always been taught that when an opportunity presents itself you take it, and I feel that's especially truer for women."  
Now, with her voice at the table, Reis is ready to come forth with a number of new ideas for the department and student population. Her first order of business is to rename the office to Community Standards.
"Student conduct is more negative and a reactive approach whereas I want to be more proactive," Reis explained. "The community standards part ties in about what we expect of students while they are here and I want to tie students more to the campus community."
The renaming already has the support of  Vice President of Student Affairs Dr. Michael Jasek.
"If we can get the name change taken care of- it is a bit of process- it will redirect our focus. Focusing on the community's standards rather than the misbehavior," Jasek added. "I think that will set a positive tone in the residence halls and athletic events."
Along with a name change, Reis wants to bring forward more educational outreach programs and approach cases with "more living room talk" rather than "handing out punishments."
"Students normally don't necessarily know what they can or cannot do or what can lead to 'X, Y, Z' from certain behavior. I think we should give as much education as we can on what the expectations of students are while you are here. Also what to do so you don't end up in our process but if you do what can you expect." Reis continued. "So maybe it's not having formal conversations all the time but 'Hey this is not a good thing you did [but] it doesn't really warrant a violation or charges instead I want you to connect with Reslife and help them do a program.' instead."
Reis feels as though by approaching some of the cases with conversations and less definite punishments, students will be more receptive and willing to change their behavior. At times, the cases she has handled were just misunderstandings amongst others and boiled down to comprehending that perceptions differ but everyone is entitled to their feelings.
"If you ever have to go through [our office] just trust the process that you will have your due process and your rights," Reis said. "This process is in place to protect you – which really sounds weird but it is. We just really take pride in what we do in our institution and keep everyone safe."
Moving forward, Reis is looking to bring a new light and new day. "Good things take time but it's coming and there will be a lot of transitions to adapt to, Reis stated. "We will be more proactive and be positive."
"Being an alumni and just being here for so long I feel like I have a kind of dedication to the students," Reis said. "I don't like to be corny by saying 'Blue devil family!' but I really do feel that way. If I can help students navigate through the lowest times in their college career as a director then that's what I want to do."
About the Writer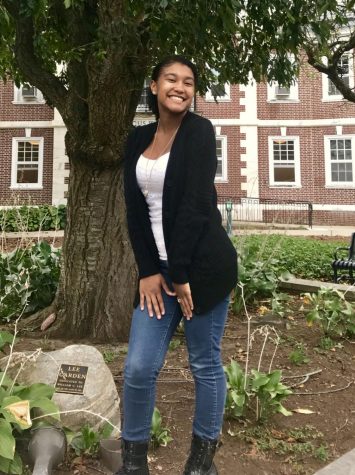 Isabella Chan, Editor-In-Chief