Men's Soccer Shutout In Season Opener
Hang on for a minute...we're trying to find some more stories you might like.
The start of the season can be a grueling process. Taking on out-of-conference teams with tough talent and enduring long road stretches can be brutal, but also a great learning experience. Central Connecticut men's soccer has its first game of the year under its belt and gained a bounty of experience on the road against the Pirates, despite the end result being a 6-0 loss.
Seven of Central Connecticut's eight freshmen saw playing time in the teams' match against Seton Hall, with five more players getting their first playing time for the Blue Devils (per CCSU Athletics). Freshmen forward Jamie Simpson led the way on offense with four shots, two of which coming on the goal. Freshmen Liam O'Brien and John Michael Torres also had a shot a piece in the game. The only shots to not come from freshmen came from sophomore midfielder Noah Silverman, who added on two shots of his own. On the day, the Blue Devils were outshot 28-8 by a red hot Seton Hall.
Last season, the Blue Devils offense was lead by senior Louis Beddouri who scored seven of CCSU's 12 goals. In his absence, the young core stepping up on offense and getting opportunities for the Blue Devils is an early sign for the future.
The Blue Devils started last season against Seton Hall as well, losing to the Pirates 2-1 despite eight saves from graduate goalie Carson D'Ambrosio. D'Ambrosio fufiled his eligibility last season.
Appearing in his first career game for the Blue Devils, sophomore goalie Jason Dubrovich had the daunting task of facing a Seton Hall offense that was continually throwing up shots. After 11 shots on goal, six goals landed for the Pirates to Dubrovich's five saves.
Dubrovich had a impressive rookie campaign at Saint Peter's before transferring to CCSU and was named to the Metro Atlantic Athletic Conference All-Rookie team thanks to 60 saves and a .779 save percentage, both good enough for fourth in the MAAC. Some first game jitters mixed with a high volume of shots on the net can could've lead to the score being what it was, something the Dubrovich defense will look to improve on before conference play starts.
Central Connecticut will be on the road for two more games against Rider and Army West Point on September 4 and 9, respectively. These will be the last away games for the Blue Devils before they start a six game home stand, leading into NEC play on September 27. With one lone victory in last season's campaign, head coach Shaun Green and the Blue Devils will immediately look to compete in the NEC with its young core.
Green will be entering his 35th season as Central Connecticut's head coach. Along the way he's coached the team to a program record 275 wins thus far, and as the program celebrates its 50th season of varsity competition, Green will be looking to add more this season (per CCSU Athletics).
About the Writer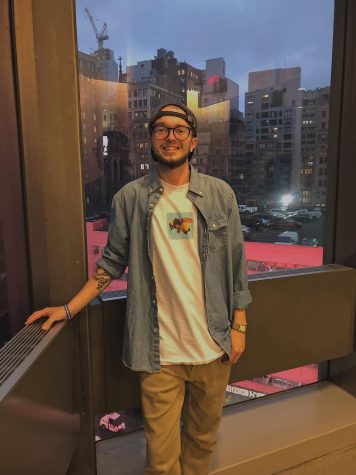 Ryan Jones, Managing Editor
Ryan Jones can be reached at ryan.michael.jones@my.ccsu.edu