To Our Sports Editor
For the past year, Patrick Gustavson has been the Sports Editor of The Recorder. Without him, many of us wouldn't have the leadership needed to grow as a section or as individuals. As a group, we decided to come together and remember the kind of leader and person Patrick was.
Trevi Alickolli, Social Media Editor
Dear Patrick,
To honor you as the person you are and how lucky The Recorder has been to have you, I started writing about how great you are at what you do. Although that's true, everyone already knows how good of a journalist you are through your work. I think the best way to honor you is to show just how great of a person you are and the impact you have had on me.
Patrick, you are one of the nicest, smartest and funniest people I have ever met.
As the Sports Editor, you have helped me any chance you get as a writer. I am better now, because of you.
When I was stranded outside in the freezing cold, I called you and asked for a hand. Your immediate response, "I'll be right there."
Furthermore, you are one of the funniest people I know. There is not a day that goes by where you do not make everyone around you smile and laugh.
I want to thank you, for everything and the impact you have had on me and everyone around you. You are one of a kind.
From, Trevi
Ryan Jones, Assistant Sports Editor
My boss, and more importantly closest friend Patrick Gustavson is a one in a million type of person.
From the day I met him and more specifically the first time I heard him sing "Mr. Blue Sky" acapella, I knew he was different.
I'd never met someone so passionate about what he does, or so compassionate and caring for other people like Patrick is. He's let me be me while also teaching me how to be a better person myself, and it's always through his example.
I love that guy, and we're gonna keep jamming and eating unhealthy amounts of Taco Bell for years to come.
Daniel Fappiano, Layout Editor
Pat, you were one of my closest friends before Central and our time here has only made me realize how great of a guy you are.
At the paper, I watched as you led a group of people through the ups and downs. If there was a story, you were always there to help. You always put anyone in front of you and were willing to help any writer. You covered the CCSU beat with a passion I've never seen.
But more importantly to me, is you taught me what it's like to have a real friend. No matter what I was going through, you were always there. You always told me to stay over or just messaged me to talk if you knew I was down. You helped me a lot during my time at Central and I'll never forget those memories.
You may not be the Sports Editor anymore, but you'll always be one of my best friends. I'll never forget the memories shared.
The big couch in the office will forever be yours.
Love, Dan
About the Writers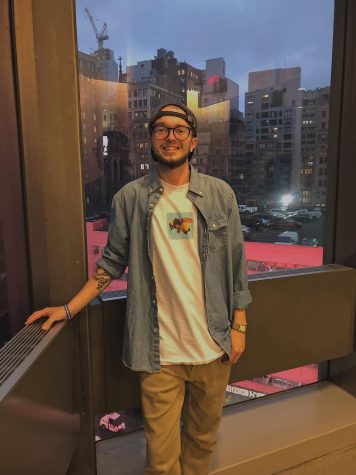 Ryan Jones, Managing Editor