Matthews Adds Strong Bat To Central Offense
Hang on for a minute...we're trying to find some more stories you might like.
Though he may be unrelated to the singer, Dave Matthews has kept the ants of Central Connecticut's baseball team marching in his first year with the team.
Transferring from Johnson and Wales last season, it was unsure how quickly the outfielder would get plugged in and begin contributing to Central's lineup. In fact, in a preseason interview with The Recorder, he was not even mentioned by head coach Charlie Hickey as a possible contributor.
Matthews crushed any and all expectations for his first season, already batting third for the Blue Devils and making a legitimate case for being the team's best hitter. He's established himself as such throughout the early stretch of the season, when the Blue Devils needed it most due to the absence of first baseman TT Bowens.
Now 30 games into the season, Matthews says he now feels "more comfortable in the lineup."
"Offensively, my job is to produce and drive in runs, and to hit the ball hard," he continued.
Coming into the year, Matthews only had one goal for his new home, to get on base and put his team in a position to win.
"My goal this year was to just walk more than I strike out, and I've done that so far," he said.
This would be the understatement of the year for the junior, who leads the regular Blue Devil starters with 17 runs batted in and ranks second on the team with a hefty .388 on-base percentage.
"He gets up there and gets good pitches to hit and puts the ball in play," Hickey explained after a strong series against Wagner for Matthews. "Obviously, he's strong and the ball was jumping this weekend. His hits have been double and extra bases and they tend to be run producers. Through the first 20 games, he's been very, very good. I don't know where we would be without him. And he's played very well in the outfield, also. He's been a very welcome addition."
Looking at Matthews' career before Central, his success throughout his first season should come as no surprise. In his senior season at Connecticut's own Newtown High School, he batted an insane .424 while holding an even more lucrative OPS of 1.142 as he leads his team to a 15-8 record.
The same dominance was held by Matthews during his time at Johnson and Wales. In the second of his two seasons with the Wildcats, Matthews batted a more than impressive .380 while driving home 37 runs, putting together a good enough stat line to be named to the ABCA All-Area Team.
As mentioned before, Matthews is not related to the famous singer of the same name. However, he has a good sense of humor when asked about, even saying he could "sing a little bit, if you need."
With only four more Northeast Conference series remaining this year, Matthews will look to lead his team to the conference tournament on the back of some more of the same stellar hitting. As he continues to establish himself more in the lineup for the Blue Devils, opposing NEC pitchers should be scared as the ball continues to sing "crash into me" to the bat of Matthews.
About the Writer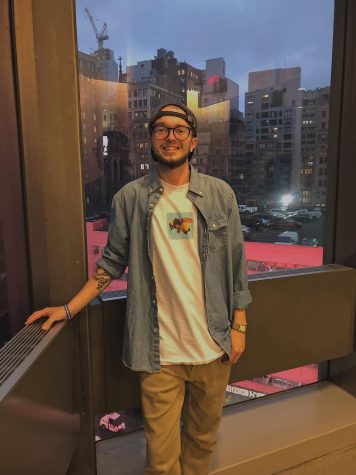 Ryan Jones, Managing Editor
Ryan Jones can be reached at ryan.michael.jones@my.ccsu.edu