Bysiewicz, Stewart, Wyman Named Co-Chairs For 'Race In The Park'
Connecticut Lieutenant Governor Susan Bysiewicz, New Britain Mayor Erin Stewart and former Lieutenant Governor Nancy Wyman will be the honorary co-Chairs for the 2019 "Race In The Park," hosted by the Connecticut Breast Health Initiative, according to a press release.
This year's race has already opened up registration for donations and runners. The event will be held in New Britain's Walnut Hill Park on Saturday, May 11.
In the past 15 years, the annual Mother's Day weekend event has raised more than $3.75 million for education programs and breast cancer research in Connecticut. All funds remain within the state.
"Every person who participates, every dollar donated, brings us closer to the next breakthrough and ultimately a cure" Joyce Bray, president of the CT BHI board of directors, said in the release.
"We are very pleased that Lieutenant Governor Bysiewicz, Mayor Stewart and former Lieutenant Governor Wyman have agreed to serve as Honorary Co-chairs. We appreciate their continuing dedication and shared determination to advance research here in Connecticut," Bray continued.
Race In The Park receives donations from across the state to help in funding several grants for breast cancer research and education programs. Some of the municipal towns and cities benefitting will include Bridgeport, Hartford, New Britain and New Haven.
Breast cancer researchers for many Connecticut hospitals have been some of the many grant recipients. Some institutions include the MidState Medical Center, the University of Connecticut Health Center, Yale University, Middlesex Hospital and many more.
The honorary co-chairs for this year's race have past experience supporting RACE Day and breast cancer research.
Bysiewicz was elected as lieutenant governor on Governor Ned Lamont's ballot this past gubernatorial election. During her three terms in the House of Representatives, she wrote legislation to provide proper care for breast cancer and ban "drive-through" mastectomies.
Wyman and Stewart will be returning as RACE honorary co-chairs after serving in previous years, according to the release. Stewart is one of the youngest serving female mayor in the United States for a city the size of New Britain.
The CT BHI offers multiple methods to participate in the RACE aside from RACE. The all-day event receives support from local businesses and people who come at for the activities in the park as well.
Artists from the Connecticut Artisan Market will be in attendance, along with returning family friendly activities, like "Touch a Truck" for children, a "Silent Auction" and "Raffle in the Park." Food trucks and live music will be part of some of the action that weekend.
"Race Day is not only about raising money for breast cancer research, it also supports the community of survivors and honors loved ones," Bray explained in the release. "The entire community really comes together to support this wonderful family day."
To register or pledge for the race, which includes a 5K run and a 1 Mile Walk, a 4K Walk and a Kids' Challenge, visit www.ctbhi.org. Regular pricing is $30 for adults and $15 for youth.
About the Writer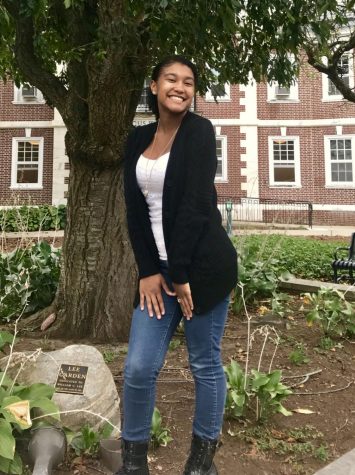 Isabella Chan, Editor-In-Chief
Isabella Chan can be reached at chan2017@my.ccsu.edu.