Batiste's Leadership Goes Beyond Box Score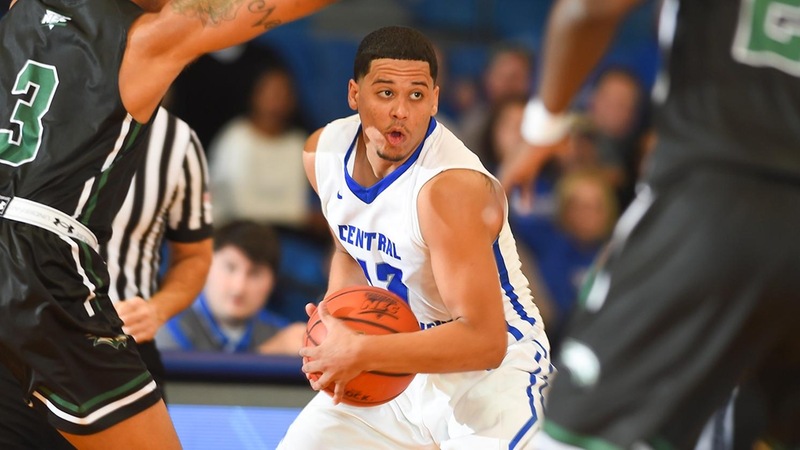 Patrick Gustavson, Sports Editor
February 3, 2019
Though point guard Tyson Batiste may hardly show up in the box score for Central Connecticut's men's basketball team, his leadership and on-court presence have been instrumental to their success.
This showed in the team's Thursday night contest against Saint Francis (BKN). Batiste was relegated to the bench as the Blue Devils went without a point guard to start the game, but the benching did not affect Batiste negatively, in fact, it was his idea.
"Tyson was actually the one who came to us about the change. He just wanted to get more offense out there, to get the game going a little bit earlier," head coach Donyell Marshall said following the game.
Batiste said his reasoning was getting the ball in the hands of star player Tyler Kohl, who had struggled in the previous four contests.
"I just felt like Tyler is really good on the basketball and feels more comfortable with the ball in his hands," Batiste said. "I just felt like me moving off to let him manage the team on the floor without me out there was huge for him."
Marshall praised Batiste for his leadership of a team that had been struggling.
"It says that he's trying to win. He's trying to do whatever possible. That's what we keep telling the team. Who's willing to sacrifice something for the better of the team? And that was our first sacrifice," Marshall said.
Batiste has been a leader from the get-go at CCSU, acting as a co-captain the last two seasons.
"Tyson has always had the leadership role, even talking to his AAU coaches in high school. He's always assumed that role," Marshall said prior to the season. "He's not scared to speak up, he knows his weaknesses, he knows his strengths. He's very good at the communication part."
"Whatever my job is, whatever they ask me to do, I'm willing to do. Whether it's guarding, whether it's getting to the paint. The coaching staff has trusted me, so whatever they say to do, I'm willing to do," Batiste added.
Batiste was thrust into even more of a leadership role when guards Austin Nehls and Shakaris Laney graduated and transferred. In addition, Eric Bowles, who shared a lot of time with Batiste the last two seasons, transferred, as did freshman Talek Williams.
Marshall said the plan entering the season was for Batiste to back up Eduardo Camacho, who redshirted last season.
It was the third season in a row where Batiste would presumably be the backup, as he was behind Bowles on the depth chart to start the last two seasons.
But as Bowles struggled with injuries the last two seasons, Batiste worked his way into the starting role. As for this year, Camacho himself transferred in late August, once again leaving Batiste as the starter.
Marshall said before the season Batiste has "continuously worked hard" and "beaten out other players" to get where he is now.
"I just do whatever I can to make my presence felt. Whether that's talking on the floor, whether it's diving for a ball, whether it's getting an offensive rebound, just doing whatever it takes," Batiste said of working hard.
The turnover led to Batiste being the only upperclassman in a backcourt filled with freshmen and has taken on mentoring his new teammates, namely Thai Segwai, who has struggled on the season.
Batiste believes Segwai, along with freshman Ian Krishnan, "will have an opportunity to make a big difference" at CCSU for years to come.
"The younger guys really listen. As much as they think I may get on them a little bit too hard at times, they really listen. I have a lot of their ears. They make my job a lot easier," Batiste said of the young guards.
Batiste's leadership and selflessness may have ignited the Blue Devils to their victory against SFBK and could be the spark they need going forward to get back into contention in the Northeast Conference.