Swimming And Diving Drops First Home Meet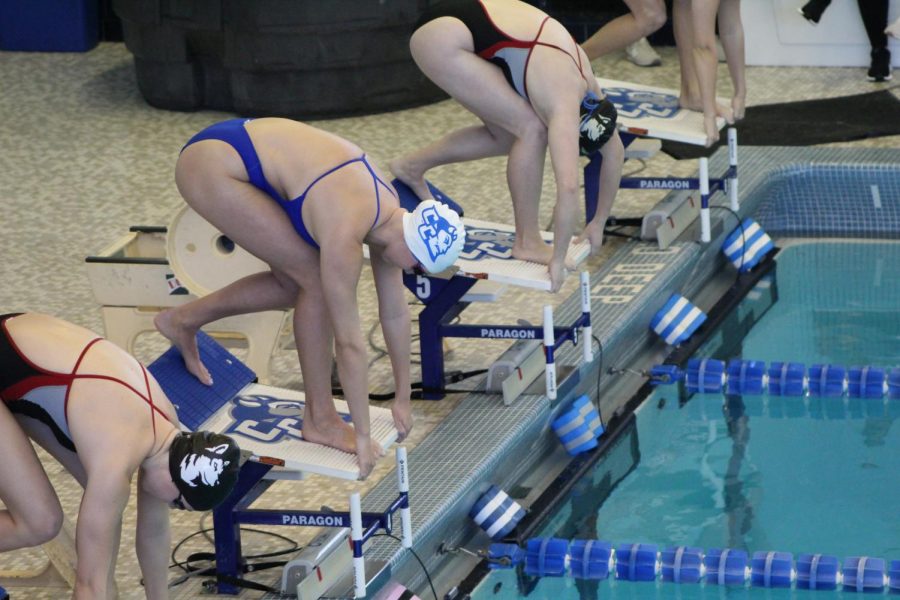 Gabriel Anton, Staff Writer
January 27, 2019
The New Year brought new experiences for Central Connecticut's swimming and diving team as they held their first home meet of the season against Northeastern in a tightly knit battle that eventually saw the Huskies victorious with a score of 147-90.
But the meet also saw Central's first time participating in the diving events this season and saw as a considerable improvement over the Florida International during the winter break in all 13 events.
Junior Valentina Gomez added nine first-place points to the Blue Devils total, winning the women's 1000-yard freestyle. Her freestyle success is consistent with her outings at the Florida International meet, as she mirrored her first place position there in the 500-yard freestyle.
Per usual, CCSU did well in the freestyle events, as sophomore Katie Czulewicz placed second and third in the 200 and 100-yarders, respectively, while freshman Simona Visinski placed second in the 100-yard freestyle.
In addition, Central garnered the top two positions in the 200-yard freestyle relay race. One team comprised of freshman Jeannette King, senior Kaitlyn Troy, Visinksi and Czulewicz, while the other freshman Destiny Johnson, sophomore Erin Brown, and freshman Hallie Perrin and Gomez, and placed first and second, respectively.
Troy and King both competed in the 100-yard backstroke along with junior Alexis Fredericks and got second, fourth and fifth place.
"We were better than we were a couple weeks ago against Florida. We've got a lot of training behind us, which is just the best to know that it counts," head swim coach Bill Ball stated.
This improvement came in the form of juniors Gracie Regan and Fredericks, coming in second and fourth, respectively, in the 200-yard individual medley. Prior to this meet, Central garnered the bottom four spots in a race with eight participants against Florida International.
Central's performance in the 200-yard medley relay was consistently mediocre earlier this season as they came in fourth or lower at the Bryant-Wagner tri-meet, as well as Florida International. They edged up a noticeable amount this Saturday by coming in second with a team comprised of Troy, King, freshman Mariana Espino and sophomore Katelyn Mann.
Gomez continued showcasing great skill in the 100-yard butterfly, proven in her earlier meet against Florida International, where she came in second and at the Eastern College Athletic Conference Winter Championship, where she came in 23rd out of 89 competitors. She has consistently been placing in the top three positions in this event for a majority of this season, adding another second place spot against the dominant Northeastern last Saturday.
In the 200-yard breaststroke, Espino, Lindgren and Mann garnered the top three spots in the event this Saturday, showing laudable improvement from previous meets.
Although Central has further refined their efforts in the freestyle, backstroke, butterfly and breaststroke events, there is still a little more room for growth all around.
"Hopefully we'll get our legs back a little bit, we need a little more kick in the back half of our races," Ball said. I think our performance looks strong, it's just a matter of getting a little more speed. The potential is definitely there, we just need to continue to keep improving."
Ball plans to land more competitors in the top three positions in each event.
"In the next week or so, we'll start to bring the volume down a little bit more on yardage and start to focus more on being sharper and to make our pacing a little bit better. Race-pace work, starts, turns, just sharpening a bit of everything," he said.
Preparation for next the meet against LIU Brooklyn will also be aided by the fact that points can now be expected from the new divers. Nicolle White and Lauren Wilcox lead the one and three-meter diving events for Central in points but fared behind the Northeastern competitors who secured the top four and three spots in both events, respectively.
"This is the first time they've been ready to dive. All three of them are first-year divers. At this meet, we wanted to make sure they were able to complete all six dives," Ball said.
The Blue Devils will face LIU Brooklyn at another home meet on Saturday. It will be senior day, celebrating the efforts of Aidan Devers and Troy, who have been fundamental to Central's success in the backstroke and freestyle events.