CCSU's 'Dinner Downtown'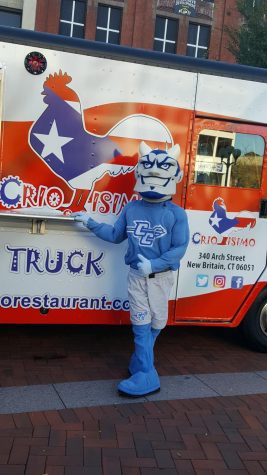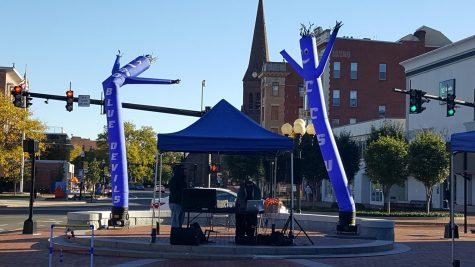 In the very cold and windy afternoon of Thursday, Oct. 18, Central Connecticut celebrated a homecoming event known as 'Dinner Downtown,' from 3 p.m. to 6 p.m. During this event, CCSU students and staff were able to visit downtown New Britain to get a taste of what some of the restaurants had to offer.
Each student earned two $5 vouchers so that they could spend $10 at any restaurant(s) that they were interested in dining at. From the Puerto Rican and American cuisine of Mofongo (which seems to be one of the most popular restaurants in New Britain and the establishment that students had visited the most), to the Thai cuisine of Mae Kong, students had many different options to choose from.
The list of restaurants which are located in downtown New Britain and were available for students to visit to spend their vouchers on included: Criollisimo (a restaurant that has a food truck that was located at Central Park), Mofongo (which is named after the traditional Puerto Rican dish which consists of mashed plantains, garlic, and topped with a type of meat), and Riley's Hot Dog & Burger Gourmet (a restaurant that serves a Mac & Cheese Burger). It also included KC's on Main (which serves a variety of different dishes from sandwiches to seafood), Peppino's Pizza, Mae Kong Thai Restaurant, CTown Supermarket, and Dunkin' Donuts (which was purposely built right next to the New Britain Police Station and apparently will be called just Dunkin' in the future).
Central Park, which is located in the middle of downtown New Britain, was filled with music, tents, smiling and laughing CCSU students, and the most noticeable of all, the color blue. CCSU students were truly able to show their pride with how much blue was used for the decorations there. It was almost as if downtown New Britain was completely invaded by blue devils. Even the infamous blue devil mascot, Kizer, was there.
The Dinner Downtown event included many other activities to do such as karaoke, taking photos in the photo booth, and playing corn hole. In celebration of homecoming week, students were also rewarded with free CCSU Homecoming long-sleeved shirts. For the photo booth activity, there were so many different props that were available to uses for the photos. Colorful hats, gigantic glasses, elegant crowns, red horns, the photo booth seemed to have it all.
Dinner Downtown was a major hit with CCSU students and staff alike as they were walking down the streets of downtown New Britain to check out these diverse restaurants. Although many students were complaining about the extremely cold weather, it did not seem to take away the fun out of the event. If anything, almost everyone there who had participated in Dinner Downtown was having a good time and seemed to enjoy all kinds of food that were offered, especially the food that came from Mofongo as many students were walking down the sidewalks with big white bags in their hands.