New Britain's First Latino Fire Chief Shares Story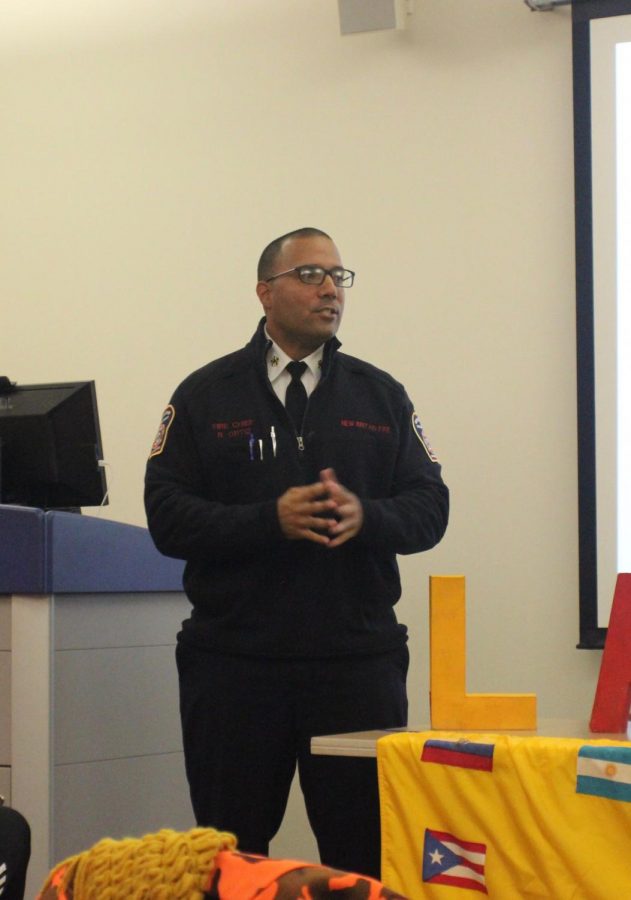 The room filled with diversity, laughter and chit-chat suddenly became quiet as everyone's attention turned to speaker Raul Ortiz, New Britain's first Latino fire chief.  
Central Connecticut's Latin American Student Organization (LASO) hosted the "Telling His Story" event Monday night, where Ortiz began his story on how he came to make history.
Raised in Hartford with three brothers and his mother, Ortiz grew up in a diverse setting. Coming to Central in 1993, Ortiz realized diversity was slim, which bothered him severely.  
"I struggled. I struggled to adapt. I struggled to fit in. I kind of isolated myself and kept myself in my dorm room," Ortiz said.
Ortiz was pursuing an education in teaching, but he realized his low patience around kids would not work out. Becoming a firefighter was not on Ortiz's mind, but he decided to apply to the Hartford Fire Department in 1997, admitting he even partied before taking the written part of the test. It took two years for Ortiz to get the job.
It took six years for Ortiz to graduate and, in 1999, he got a taste of what it was like to be in the fire department.  
"Chief walks in and you're on your feet," Ortiz said. "I said, 'I'm going to be that dude. People are going to stand up when I walk in.' I was vocal about it. I said I'm going to be chief one day." 
At the time, there were no Latino chiefs. Ortiz admitted that people thought he was crazy because there were no previous chiefs for Ortiz to follow. This did not stop him. 
Nineteen years in the field, Ortiz served on every position on the Hartford Fire Department. Not only that but becoming fire chief does not usually happen this quickly. Ortiz got to where he is by never putting down a book. He never stopped reading, he never stopped studying and never stopping trying to improve because being Latino in a fire department comes with challenges and discrimination.  
"In the fire service, it is historically racist, probably one of the most historically racist organizations in the country. They put roadblocks in the way to limit people," Ortiz stated. "They would put a height requirement and well, Latinos don't grow tall. Then they said [we] need a college education, but not many Latinos were going to college back then." 
Even now as fire chief, Ortiz emphasized that he feels that if he makes a mistake, people are going to say: "See, this is why I said we shouldn't hire him."  
Racism was never shy in Ortiz's career, but experiencing it shaped him into the person he is.
"From day one, I always felt like [Latinos] didn't belong. They literally looked at me and said, 'What, you couldn't find a better job?' It wasn't until they said, 'Man, this kid is college-educated' and mentioned, 'Damn, this kid sharp,' but my whole point is never to tell them [they] don't belong here," Ortiz said.  
As chief, Ortiz hired three African Americans, two Latinos, two women and one white male.  
Breaking boundaries is something Ortiz strives to do every day and caught the attention of Central junior Kayla Natal. 
"Being a Latina woman is very hard to get that recognition that you're just as smart and just as capable as your white counterparts," Natal stated. "You have to be happy in your own skin, and just listening to his story, it was very inspirational."