SGA Treasurer: 'I'm Not In Violation' Of Student Conduct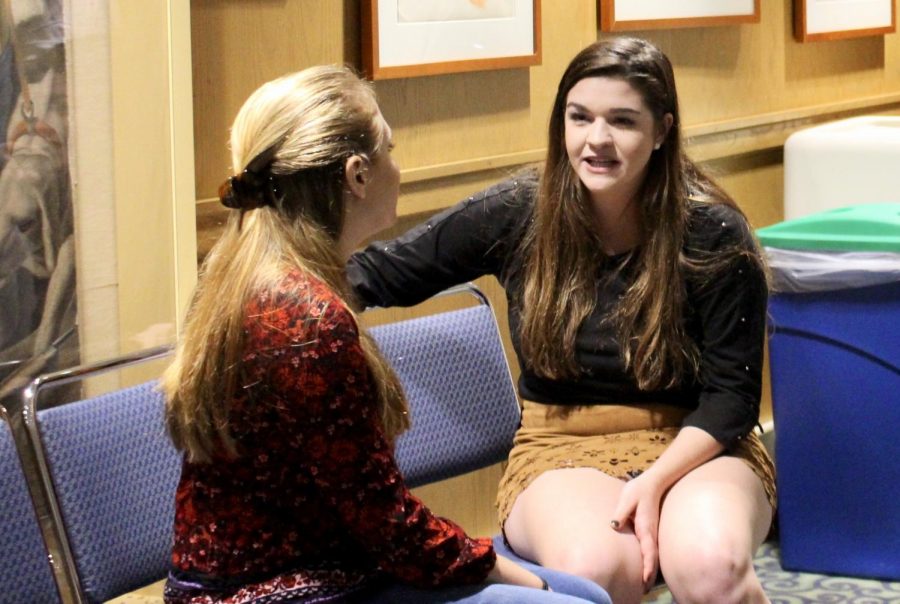 Kristina DeVivo, treasurer of Central Connecticut's Student Government Association, said she is in the clear per university policy after posting a private Snapchat video that captioned CCSU students who support Supreme Court Justice Brett Kavanaugh as supporters of rapists.
"During the meeting [with Student Conduct on Monday], it was established that I am protected under my first amendment rights," DeVivo wrote in a statement. "I maintain that I have not committed any act which would constitute grounds for impeachment."
DeVivo's Snapchat came to the forefront of attention after Ally Clark, who led the demonstration in support of Kavanaugh during last Monday's anti-Kavanaugh protest, called on the SGA to impeach DeVivo from her treasurer position for the "shocking" social media post during the organization's meeting last week.
Clark displayed screenshots from the Snapchat video, which DeVivo captioned with "THESE ARE THE FACES THAT SUPPORT RAPISTS ON THE CCSU CAMPUS." Clark, wearing her "Trump/Pence 2020" shirt and holding her "I Believe Kavanaugh #HimToo" poster, is clearly visible, as are the other students who later joined her counterprotest.
Clark announced during the meeting that she'd be pursuing DeVivo's impeachment through a petition, saying that DeVivo violated the rules of Student Conduct and the SGA Constitution.
The SGA Constitution states that impeachable offenses include "violations of the Student Code of Conduct" and "violations of the Student Government Association Constitution and/or Bylaws," which Clark claimed DeVivo had done. Clark also alleged that DeVivo had violated her privacy by filming her, however, individuals do not need permission to film on CCSU, which is a public university. 
Clark's petition, per the SGA Constitution, will need to be "signed by at least a majority of the members of the Senate and four hundred [students]," as well as be submitted into the SGA's meeting minutes.
As of now, Clark said she has 22 signatures. One SGA senator who signed it, Justin Boutin, stated he now regrets doing so, elaborating that he'd signed it thinking DeVivo had violated university policy. As that is now known to not be the case, he wishes to rescind his comments to The Recorder and his signature.
"I agree with Senator [Thomas] Mitchell that [DeVivo] has been a great treasurer and does not deserve to be impeached. We all make mistakes sometimes and I think we can let this one go," Boutin said.
DeVivo apologized to Clark during the meeting's open floor, saying she'd never meant to cause her harm. She also said that she has not ever and would not ever allow her personal biases to affect her work as the SGA's treasurer and that the Snapchat video was not a representation of her as treasurer.
"I was representing Kristina DeVivo, not Treasurer DeVivo," DeVivo told Clark and the SGA on Wednesday. "I know Treasurer DeVivo follows me in my life, but I stand by my beliefs. This incident is not a reflection of me as treasurer. We are allowed to have our own opinions and views as senators. I am sorry. I know I went too far, but my actions do not reflect the SGA."
After her meeting with Student Conduct, DeVivo stated there was no evidence to suggest grounds for impeachment on either Student Conduct's or the SGA's end.
Though the office's Interim Director David Braverman could not comment specifically on the situation, he said that, hypothetically, a student in DeVivo's position could face individual consequences through the organization they belong to rather than through Student Conduct.
"Violations of standards that exceed those specified in the code are resolved directly by those groups," Braverman explained, saying that free speech factored into decisions on Student Conduct's end. "Of course, there are social norms and ethical behaviors that are not necessarily a violation of a policy, but of a community standard or expectation."
Additionally, he stated that the students who directly threatened others online and who've been reported to police, like in Clark's case, could potentially face disciplinary action both through Central's Police Department and through Student Conduct.
"Direct violations would be dealt with through my office, and of course threats to safety are immediately addressed by the police and, once the situation is contained, if a violation has been committed, it would be referred to my office," Braverman said.
When asked whether she'd drop the petition if it turned out DeVivo had not violated anything through Student Conduct, Clark said that she would.
"I would respect the rules of the university," Clark stated. She added that she has not met with administrators on the matter or filed a formal complaint, but plans to go to Student Conduct "sometime this week."
"I hope that [Clark] can move past this and find solace in her studies," DeVivo said.