'Team Connecticut'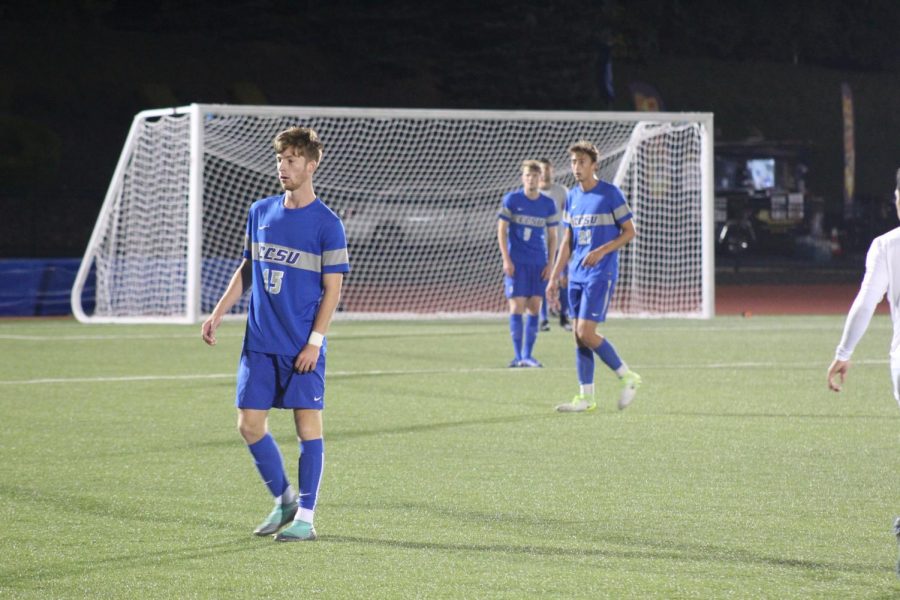 Patrick Gustavson, Sports Editor
October 20, 2018
This offseason, Central Connecticut men's soccer head coach Shaun Green saw a new vision for his squad, to become "Team Connecticut."
Despite consistently bringing in players from within the state in recent years, he came to the realization that those were the players he wanted to invest in.
"Last year was a big jump. We had been bringing some Connecticut players in, but I just felt that this is a state university and we want to attract the best players in the state that we can," Green said. "Our first choice cannot be to go overseas. Our first choice needs to be 'let's look in-state and find the best players we possibly can.'"
With 24 players on the roster, 17 of them are from Connecticut, including six of the seven freshmen that arrived this season.
"We can provide them an opportunity, from day one, to play Division I soccer. And not just to sit on the bench, but to actually play Division I soccer," Green said on what the school has to offer these local players.
Only four Blue Devils have found the net so far this season, but three of them have been Connecticut freshmen. 
Aidan O'Brien of West Hartford made his presence known early, scoring an equalizer in the team's first game of the season against Seton Hall of the Big East Conference, though the Blue Devils went on to lose the contest.
O'Brien had opportunities elsewhere to play D-I, such as Hartford and St. John's, but it was his familiarity with the coaches that brought him to CCSU. He played at the Connecticut Football Club for assistant coach David Kelly, where he also became familiar with Green.
"I just knew them really well. I knew how they were. I knew how they coached," O'Brien said.
Another thing Green wanted to do was pack the stands with Connecticut families.
O'Brien stressed how important it was for him to have his family in attendance at home games.
"It's everything. It's so much different than if I was playing across the country. It makes you feel better. It makes you play better having their support," O'Brien said.
For the team's contest against Fairleigh Dickinson, "probably 100 people" were in attendance to support freshman Noah Silverman of Berlin, including a local youth team.
Silverman has contributed two goals and one assist on the season for the Blue Devils. Though only finding the goal twice, Silverman has been a focal point of the offense, firing off 19 shots, the third most on the team.
Jonathan Maldonado of Wolcott scored his first collegiate goal in that game against FDU with his parents in attendance, per Green.
Larson Richards from Mansfield Center, has started all 11 contests and nearly scored his first career goal against Mount St. Mary's. Midfielder and Middletown native Jeffrey Turro has seen action in all but one contest.
Despite the promise of these young players, the success has yet to come for "Team Connecticut," who have still not won a contest on the season, with a tie against Hartford acting as their best result. But Green understands that this transition may be a lengthy, difficult one.
"The difference is that young players are going to take a year or two to develop. They don't have the skills that international kids who have been at a pro club have," Green said.
"Bear in mind, they're only six weeks out of high school, they're going to need time, but they're going to be really good. Anything worth building takes time. It's not done overnight. And we understand the consequences. We understand it's going to be hard."
"But it's going to be a proud day, not too far away, where 'Team Connecticut' is going to win the NEC," Green stated.