Michael Myers Returns For 40th Anniversary Of 'Halloween'
Natalie Dest , Arts and Entertainment Editor
October 17, 2018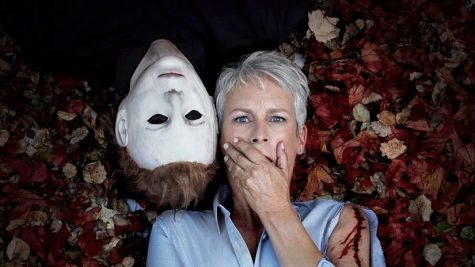 Acclaimed as one of the most iconic and classic horror villains, Michael Myers returns to theaters for the newest rendition of "Halloween."
Fans of the original "Halloween" franchise are eagerly anticipating to see Jamie Lee Curtis' return to her roots as the role of Laurie Strode, one of cinema's most unforgettable babysitters. Appearing on the big screen starting Friday, Oct. 19, audiences across the nation can expect to see a frightful reunion between the two.
"I have prayed every night that he would escape," Laurie Strode says in the newest trailer for the 40th-anniversary reboot. "So I can kill him." Now, Strode's prayers have finally been answered.
The masked murder from director John Carpenter's 1978 film flees captivity after a bus crash. Returning to his hometown of Haddonfield, Illinois, actor Nick Castle performs the role of Myers, wreaking havoc across the town, again.
As for Strode, she is no longer a babysitter, but rather a gun-carrying grandmother who is set out and determined to protect her and her family. Preparing for her rematch against the knife-wielding masked psycho murder, she is more than ready this time around.
With the help of Storde's daughter Karen, played by Judy Greer, and granddaughter Allyson, played by Andi Matichak, Curtis believes that this terror tale is very much a movie for our time.
"Well, I do not believe that when David [director] and Danny and Jeff [co-writers] were writing this, that they were looking at it as a way of incorporating the #MeToo movement into this retelling or revisiting of this story," the actress told EW.
"Clearly this movie will be another voice in that same chorus of women taking back their stories, saying, 'We are not that story, we have arrived, and we will be the ones that write our own stories,' and that only comes from the bravery of a few," Curtis added. "This movie will be a part of that wave. I didn't realize it until we were making it, and I realized what Laurie was doing, and that's very powerful."
Although Carpenter is not directing this version of "Halloween," he did come on board as an executive producer for this story. Jason Blum, who is producing this $10 million film through his label Blumhouse, said that is was pretty much essential that Carpenter give his blessing that Curtis returns to her character.
"You can't make 'Halloween' without John Carpenter and Jamie Lee Curtis," Blum said, according to Variety. "If you did, you'd be starting out with two and a half strikes against you."
This happened to be Curtis' third time revisiting her character of Storde, previously returning to the part in 1998's "Halloween H20: 20 Years Later," an experience she stated she found disappointing.
"'H20 started out with best intentions, but it ended up being a money gig," Curtis said. "The film had some good things in it. It talked about alcoholism and trauma, but I ended up really doing it for the paycheck."
However, that is not true this time around. Blumhouse applies a low-budget model to the films he produces, according to Variety. It was an approach that Curtis seemed to embrace with open arms; a project that is going to be unforgettable.
"Despite writing books for children, all of my advocacy, all of my politics, all of my own personal journey, my legacy will always be 'Halloween,'" Curtis concluded.