Football Falls To Winless Lafayette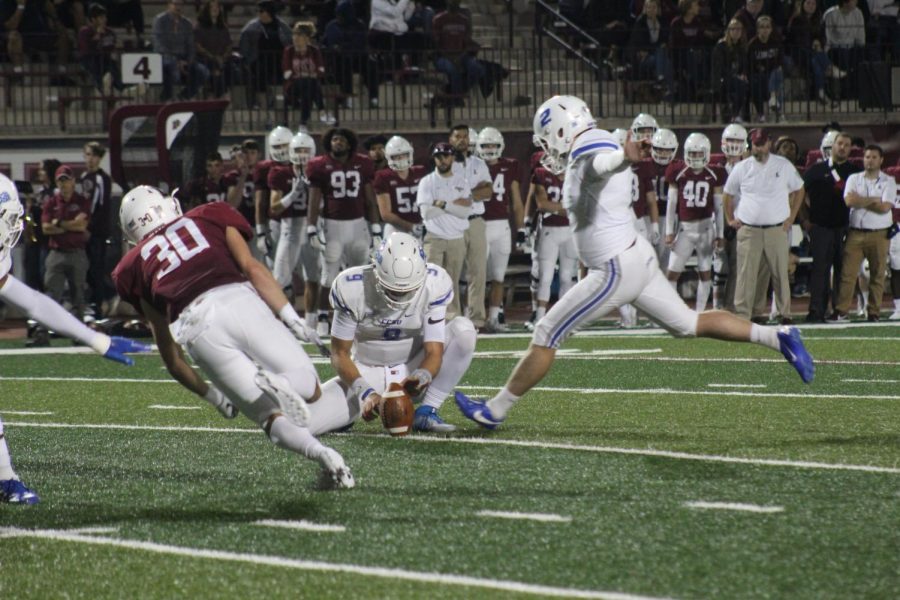 In their second road game in two weeks, the Central Connecticut football team dropped to a 2-3 overall record after losing 31-24 against Lafayette, giving the Leopards' their first win of their season.
In a back-and-forth game, the Leopards secured the game-deciding touchdown with just under three minutes to play in the fourth quarter. The Blue Devils would end up with a chance to answer the bell for a game-tying touchdown when they were down 24-31 late in the fourth quarter.
An opportunity was squashed by the inability to execute late in the game as they cost themselves by drawing a personal foul as they were attempting a comeback drive.
The very next play resulted in a catch and fumble that would end up securing a Leopards' victory as they ran out the clock afterward.
Offensively, the Blue Devils were led by junior running back Enyce Walker, who carried the ball 11 times for 73 yards (34 long) and one touchdown. He also caught one pass for five yards.
Walker has been reliable this season as he's been the team's leading rusher in three of five games and is averaging just under seven yards per carry (6.9).
Fellow running back Drew Jean-Guillaume also had a productive game, as he managed to gain 100 scrimmage yards against the Leopard defense.
Jean-Guillaume had nine carries for 37 yards on the ground but was also the team's leading receiver with five receptions for 63 yards.
Senior quarterback Jacob Dolegala threw for 202 yards on 23/36 passing along with a touchdown caught by sophomore wide receiver Tyshaun James.
Dolegala added 37 yards on the ground along with another touchdown.
After a dominant defensive showing against Fordham last week, the Blue Devil defense was not able to put on a show in back-to-back weeks.
They forced two turnovers a week ago and gave up only 13 points, but were not able to force any turnovers this week and allowed 31 points in the process.
The defensive effort was led by senior Tymir Hilton and junior Grant Ibeh as they had 18 tackles between them, nine each.
Central was not able to generate any pressure against Lafayette and was not able to record a single sack on 41 pass attempts by the Leopards.
The special team aspect of the game was underwhelming Saturday night as they allowed a punt return touchdown.
But one thing that will not go unnoticed is junior placekicker Francis Cole hitting a school-record 50-yard field goal at the end of the half, giving the Blue Devils a 17-14 lead at the time.
The Blue Devils continue their four-week road trip as they hope to get off to a good start against Northeast Conference opponents on the year when they take on Robert Morris on Saturday, Sept. 6 at 1 p.m.