Central's Classic Horror Movie Debut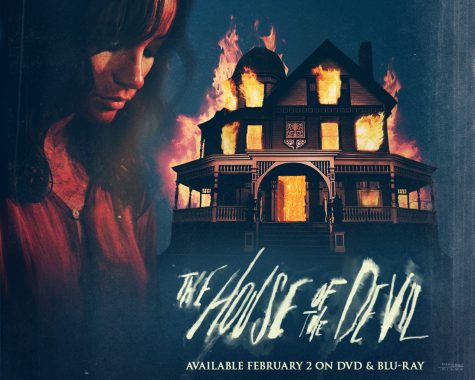 You can stream West's "The House of the Devil" for rent on Amazon Prime and Youtube for only $3.99.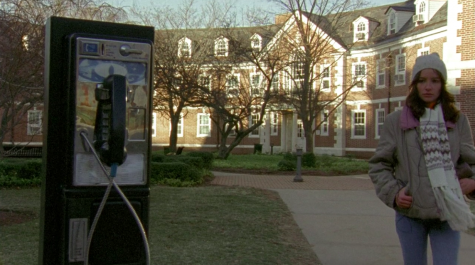 Actress Jocelin Donahue, "Samantha" stands next to a payphone outside CCSU's very own Marcus White.
With Halloween around the corner, everyone you know is gearing up for the spookiest time of the year. Whether that be pumpkin carving, picking out a Halloween costume or taking a trip through a haunted house, October is the embodiment of it all.
However, the "month of Halloween" is especially known for its binge-worthy horror films that keep you sleeping with the lights on. October has brought us horror classics such as "Halloween," "The Exorcist," and "The Shining" to name a few. Yet, not many know about the typical "horror classic" that was filmed on our very own campus.
Director Ti West's "The House of the Devil" is a satanic-cult horror film that was created to replicate the classic genre titles of the 1970s and 1980s. With its filming locations specifically in Connecticut, such as Lakeville, Winsted, Torrington, Salisbury, and CCSU's very own campus, it makes this movie hit close to home – literally.
With this 2009 film bringing in $123 million its opening weekend, West's technique in filming is what makes this movie provoking and almost revolutionary. It is almost as if "The House of the Devil" was seemingly made by a hand dipped in the talent pool of John Carpenter as this film is an ideal embodiment of suspenseful horror, almost while replicating Jamie Lee Curtis with fresh blood.
The movie focuses around an extremely likable character by the name Samantha, a young college girl who is desperate in earning some money to move out of the dorms into her own apartment. Portrayed by actress Jocelin Donahue, despite a few red flags, Samantha takes a babysitting gig at a secluded house in the country. In order to avoid spoilers, let's just say that everything is not what it seems.
As West slowly unravels his tale, the time period of the story truly gives the film it's perfectly vintage horror vibe. The audience is taken back in time to when satanic-panic ruled and strangers were the strangest. The simple context of taking its viewers out of their current time period further sets up the movie for an ongoing sense of uneasiness. With little things such as not having a cell phone in the 80's, makes this movie even the slightest scarier.
The cinematography is also true to its time period the plot is set in, the dialogue feels authentic, and the scares do not come cheap. The suspense throughout the film is something that older filmmakers were experts at portraying, an element that seems to be lacking in current horror films in today's theaters.
If your interests lie with classic, plot-driven horror movies that keep you on your toes, then this one is for you. "The House of the Devil" is a subtle film that so willfully and carefully executes everything that a true horror film is meant to be.
You can rent West's film to watch on both Youtube and Amazon Prime.