Joey Fields Brings Family To The Football Field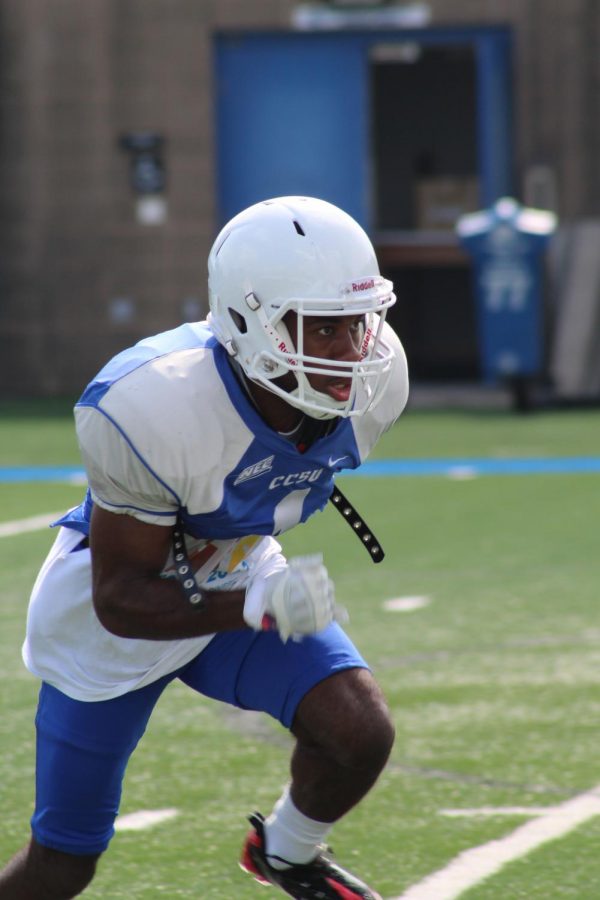 In the stands, a hoard of loyal supporters donning homemade jerseys can be seen standing and cheering. On the field, a dynamic playmaker waits for his opportunity to break open the game with an explosive play. On the back of both parties' jerseys, one name can be seen: "Fields".
Senior wide receiver Joey Fields Jr. has been an important weapon on offense for Central Connecticut during his time on campus. In 40 games as a Blue Devil, Fields has caught 82 passes for 1,198 yards and 10 touchdowns. He burst onto the scene in 2016, catching 46 passes for 732 yards and six touchdowns, earning All-Northeast Conference second-team honors.
During the 2017 season, Fields suffered an unfortunate injury that limited him to just five games without a recorded stat.
Back healthy for the 2018 campaign, Fields is excited to be with his teammates and playing the game he loves again.
"It's like a welcome back tour," Fields said, "It feels good to be back with the team, I think we can really make some noise, this receiving core is going to be special."
Fields has been one of the most active members of the receiving core this season. Through three games he has caught eight passes for 96 yards and touchdown. He is tied second on the team in receptions, third in receiving yardage and is one of only three players to have a receiving touchdown.
When on the field, the senior receiver is known for his quickness and his ability to turn any play into a big gain. When Fields first committed to CCSU in 2014, head coach Pete Rossomando stated how excited he was to have that kind of speed on his team.
"Joey is a dynamic playmaker on the perimeter and in the return game," Rossomando told the CCSU Athletics Department. "He has game-changing speed which we look forward to seeing at Arute Field."
Fields understands how important his role on offense is, however, he credits his teammates for putting him in a position to succeed.
"Having a quarterback like Jake (Dolegala) is great, he can get me the ball," Fields said. "He's my matchmaker, it's perfect. Being able to go deep and make connections like that, it makes a big difference."
Fields has excelled on the field during his career. However, it's what, or rather who is off-of-the-field that is on his mind during every play. At every Central Connecticut football game, you can see Fields family in the stands, cheering for their favorite receiver.
"Family is everything, that's the reason I play this game, I wouldn't be playing without them," Fields said, "They've never missed a game since Pop Warner. I do everything for them, everything is for them."
Hailing from Tom's River, New Jersey, Fields had to travel almost 200 miles to attend CCSU. Yet despite the distance, knowing his family is right there makes him proud to be a Blue Devil.
"It's close to home, my family could come see me play, I wanted to play Division 1 ball," Fields said, "CCSU was the perfect fit for me."
Fields makes himself known on the field with standout offensive plays. But his play on the field is only matched by the love and support he receives from his family.
As the Blue Devils look to return back to the Football Championship Subdivision playoffs, Fields playmaking ability will need to be a focus of the offense.