Disney Announces Their Newest Park-Wide Alcohol Policy
Natalie Dest, Arts and Entertainment Editor
September 15, 2018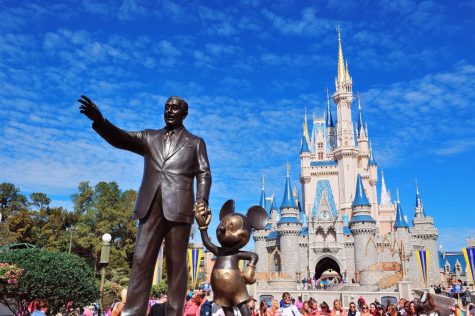 The famous Walt Disney and Mickey Mouse statue at Magic Kingdom. (photo credit – Orlando Weekly)
It is no secret that Disney World is branded as the "happiest place on earth," but Magic Kingdom's latest announcement just made it even happier for its guests — at least for the adults that is.
For the first time in history, all sit-down restaurants at the Orlando theme park are going to be serving alcoholic beverages for those 21 and over. All other parks at Disney World such as Animal Kingdom and the Epcot Center serve booze, while Magic Kingdom was the last part of the park to keep all things alcohol-free.
Up until 2012 when WDW opened their "Beauty and the Beast"-themed restaurant Be Our Guest, no restaurant in the Magic Kingdom were allowed to serve alcohol to customers. The rule issued that banned alcohol, which is still in effect at Disneyland in Anaheim, California, was a strict policy that was a part of Walt Disney's original vision to keep family fun throughout the park G-rated.
However, the park announced in a statement that "Magic Kingdom guests ages 21 and up can now enjoy libations such as wine and beer at The Plaza Restaurant, The Crystal Palace, and The Diamond Horseshoe."
For example, the Plaza Restaurant will offer a variety of selections of American beer and wine, included beverages such as "regional craft India Pale Ale which goes wonderfully with the Angus Chuck Cheeseburger," according to Business Insider.
The Crystal Palace has added sparkling wine mimosas with breakfast in addition to wines such as Pinot Noir and Chardonnay during lunch and dinner buffets. As well as The Diamond Horseshoe, which has frontier-themed food, has added beer and wine, accompanying their staples such as barbecue pulled pork, sliced turkey, country smoked sausage and braised beef.
Although Magic Kingdom had until recently remained a more-or-less dry zone inside the park, it is safe to say that Disney customers will definitely be trying out these new alcoholic beverages. Whether it's for casual dining or a quick drink after riding Splash Mountain, this newest addition to the park has the opportunity in becoming a crowd pleaser.