CCSU Art Department 2018 Faculty Exhibition
Natalie Dest , Arts & Entertainments Editor
September 5, 2018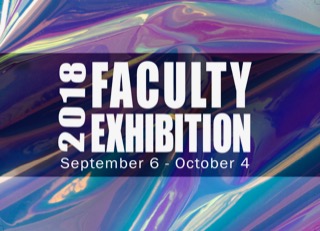 It is no secret that Central Connecticut is filled with inspiring and amazing faculty members that continue to support us students on a day-to-day basis, whether that be in the classroom or throughout campus.
As fellow Blue Devils, us students should show our thanks and give back to our supportive faculty by joining them for the CCSU Art Department Faculty Exhibition 2018.
Starting on Sept. 6 to Oct. 4 with free admission, artwork by "permanent and adjunct faculty from the art department will be on display in the university galleries," according to the CCSU's Art Gallery's website.
This is an exhibit that is sure to reflect the diverse and creative outlook of the CCSU faculty artists, as well as showcase a variety of media.
The list of artists represented in this year's exhibition are as follows:
James Buxton
Melanie Carr
Thomas Edwards
Linda Edwards
Theodore Efremoff
Sherinatu Fafunwa-Ndide
Theresa Feder
Craig Frederick
Sean Gallagher
Vicente Garcia
David Holzman
Victoria Kniering
Layet Johnson
Glenn LaVertu
Adam Niklewicz
Daniel Riccio
Rachel Siporin
Patricia Weise
 The CCSU Art Galleries are located on the second floor of the Samuel S. T. Chen Fine Arts Center in Maloney Hall at the corner of Stanley Street and Ella Grasso Boulevard. Free parking for the event is available in Welte Garage if you are a student or faculty member. Alternatively, visitors may use the Student Center Garage, Kaiser Lot and Copernicus Garage.
The gallery will be open on Thursday, Sept. 6 from 4-7 p.m. and 1-4 p.m. Monday through Friday.
Regular gallery hours are from 1 to 4 p.m. Monday through Friday.