Seriously In Love With "Love And Loathing"
Natalie Dest, Arts and Entertainment Editor
September 1, 2018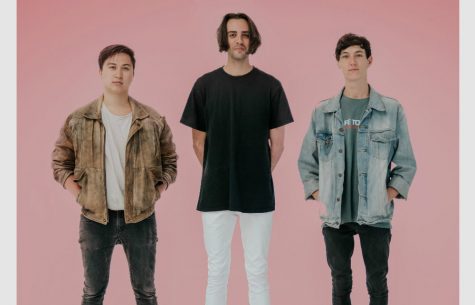 Members Ingio Del Carmen, Jayden Seeley, and Josh Brozzesi (left to right) of the Australian pop-punk band With Confidence released their newest LP "Love and Loathing" this past summer.
With being part of the final Warped Tour lineup, it has been a rather busy summer for the Australian pop-punk trio With Confidence.
Their recent release of sophomore album "Love and Loathing" this past August via Hopeless Records has made a loud impression for their fans and other listeners within the punk scene.
Having won over critics with their music debut "Better Weather" back in 2016, the band has seamlessly claimed their spotlight with their newest LP, a sweet pop-punk record that screams of love, heartbreak, hope and simple fun in the summer sun.
"Love and Loathing," produced by Mike Green (fellow producer of All Time Low and Paramore), is not far off from their previous album, but rather an extension of their musical talent that has the potential to launch these Aussies into a whirlwind career. 
Opener and first single "That Something" takes no time in proving so. Thanks to the playful guitar riffs and pleasing vocal harmonies of the chorus, this song is impossible to get out of your head whether you like it or not.
This sweet love song is loud without being aggressive, as it introduces listeners to the idea of having found something that they do not want to lose. Lead singer Jayden Seeley confesses the lyrics "I think I found that something, I think I'll finally breathe right in / I think I feel that love I won't give up, I think you soaked into my skin."
Following track "Sing To Me" opens with a more prominent bass line and slower tempo, while including the sugary sweet chorus and chant of "ba ba ba, ba, ba bada da," similar to All Time Low circa 2012. This song is definitely one to please the crowd at a live show.
"Moving Boxes," the third single off the album, was written by guitarist Inigo Del Carmen, delving more into a darker side of "Love and Loathing." Through a heavy and driving guitar line with lyrics "these days I've been nothing but a burden," this track is a catchy break-up song about a relationship that has no future.
But as dire as the subject of the track is, the bass line is inviting and fun to listen to, creating an anthem you will have on repeat.
The following track "Jaded" is the album's second single, a faster-paced song with chugging guitars riffs and bouncy drum beats. This track focuses on a relationship that went south, questioning why it did not work and wishing that they could have been enough for them.
One of the most prominent things to note from this album is its ability to relate so easily. With tracks like "Jaded," the band truly focuses on the fact that almost everyone has a story of heartache.
From "Better" onwards, the second half of this album really highlights the "loathing" part of the record. There is a more confident sound, more cheerful and peppy songs, with a catchy balance between pop and soft punk, which is perfectly heard within the track "Better."
This track shows the band's hopeful vision about the future, even if they allow themselves to be hurt and heartbroken at times. Striving to be better people, this song includes attention-grabbing melodies with an unforgettable repeated guitar riff.
Seeley confesses through the lyrics of "All that I ever wanted / I wanna feel worth it / Don't want to be worthless."
The band then turns to a more acoustic-driven change of pace with tracks such as "Brusie" and "Paquerette (Without Me)." These songs give fans a chance to hear the other side to heavy-paced punk music, giving "Love and Loathing" the somber side it is meant for.
However, the track "Icarus" is an entire switch of sounds, showcasing the band's musicianship of manic guitar riffs, a punchy chorus and hard rock influence. Possibly landing as one of the band's most impressive songs on the record, "Icarus" fully embodies the pop-punk scene.
Concluding "Love and Loathing" is a mellow, sing along-friendly track entitled "Tails," providing an impactful and feel-right ending to the album. The brief acoustic section with the mantra of "I think love and loathing's all I've got / Sometimes I think it's all I want," ends the track "Tails" in the most fitting way possible.
From the positive outlook of tracks like "That Something" and "Better" to its more somber-themed tracks such as "Tails" or "Bruise," there is a song for avid pop-punk enthusiasts of all background and tastes.
With the band's heavy insights on the acts of "love" and "loathing," With Confidence's newest LP stands high and proud, a record fighting to prove the band has a right to stay.