Central Connecticut State University welcomed 1,416 new full-time students this semester, marking a 15.5% increase that places this class among the largest in university history.
"We have some good news to share! The final census numbers are out, and they are very promising," CCSU President Zulma Toro said in an email sent to all academic departments and administrators.
The increase in new students has led to a 2.6% increase in total enrollment. The total fall 2023 campus enrollment is 9,712, according to the census.
Last fall, CCSU reached the lowest total enrollment the university has seen since 1975, with a total of 9,468 enrolled students.
"We have more than surpassed our First-time, Full-time goal of 1,350 enrolled students," Toro said. "Another exciting piece of news is our housing occupancy for this fall."
The university set a housing goal of 2,100 students living on campus. This goal was exceeded by 167 students, according to the census.
Last year only 1,985 CCSU students were residents.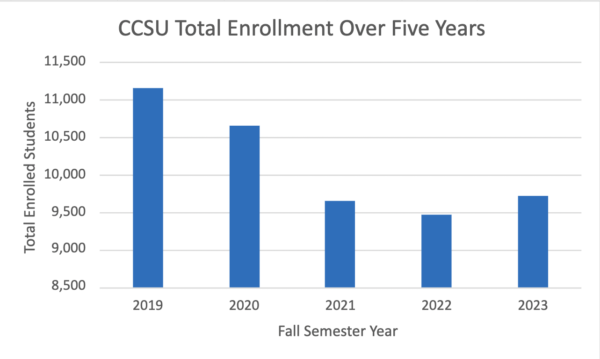 Aside from the numbers, this growth in the student body is contributing to one of CCSU's diversity goals, Toro said in the email.
"This diverse class is poised to contribute significantly to Central's goal of becoming a Hispanic Serving Institution," Toro said.
An HSI is defined in Title V as an institution of higher learning where at least 25% of full-time students are Hispanic, according to the Hispanic Association of Colleges and Universities website.
As of fall 2022, 17.9% of undergraduate students at CCSU were Hispanic, according to the Office of Institutional Research and Assessment.
If CCSU meets this goal they will be the joining six other HSIs in the state. Capital Community College, Goodwin University, Housatonic Community College, University of Bridgeport, University of Connecticut Stamford, and Western Connecticut State University are currently the only HSIs in Connecticut, according to the HACU website.
Despite not being an HSI, Hispanic students at CCSU are vital to the community, with multiple Hispanic and Latino clubs on campus, Student Government Association President Haneen Alkabasi said.
"The Latin American Student Organization enhances the CCSU campus by representing Latino heritage," Alkabasi said. "Latin American, Latino, and Caribbean Center is putting on wonderful events to celebrate National Hispanic Heritage Month that everyone should check out."
Before this influx of students, CCSU enrollment was on a steep decline of 20% over the past five years. The university had a student body of 11,085 full-time students in the spring of 2018 which dropped to 8,891 students by the spring of 2023, according to the OIRA.
This fall, undergraduate admissions applications increased by 13.2% over the past year. 8,099 applications were submitted and 6,186 students were accepted, an increase of 15.5%, according to the census.
CCSU has a target goal of increasing enrollment to 12,500 students according to the Strategic Plan 2030, developed by the Strategic Planning Steering Committee.
The SPSC is comprised of Toro, CCSU faculty, staff, students, alumni, community, and business leaders, that developed the plan in 2019, according to the Strategic Plan website.
"I am very appreciative of everyone for their contributions to getting Central to this position, which is a strong foundation of our plan for financial sustainability as we move forward," Toro said in the email.
CCSU's financial sustainability model includes enhancing financial aid, providing grants and funding initiatives, through stewardship, entrepreneurship, and partnership, according to the Strategic Plan 2030.
High enrollment helps both the university and it's students financially. SGA's budget is from student activity fees, more students leads to a bigger budget for them, Alkabasi said.
SGA plans to use these added funds on events for students throughout the semester, leading up to their collaboration with Central Activities Network for the annual spring concert, Alkabasi said.