Central Connecticut State University hosted Secretary of the State Stephanie Thomas for a National Voter Registration Day press conference and Voter Registration Drive on campus on Sept. 19. 
The CCSU Center for Community Engagement and Social Research held the event in the Student Center Circle. 
Thomas urged eligible students to register to vote and vote in every election, including local ones. 
The Secretary of the State's office took Tuesday in particular to focus on voter registration of college students, Thomas said.  
"So many young people are very passionate about an issue," Thomas said. "Whether it's gun violence prevention, climate change, fill in the blank." 
In her work, Thomas hears complaints about the time it takes for noticeable change to be made, she said. 
"I think people have this energy and they go to rallies, they may write letters, they may not, but the democratic process is actually a little more complicated than that," Thomas said. "So, you have to vote. You have to follow up with the people you voted for." 
Thomas recommends voting in local elections rather than sitting out on them and blindly accepting the changes that are being made around you, she said.
"How much space this campus was allocated, how much of it is green, what kind of classes you're required to take, all these things have passed through elected office," Thomas said. "Whether you're involved or not, decisions are made about you." 
Niya Blizzard-Ireland, a CCSU sociology major, was one of two student speakers at the press conference. 
Ireland was raised to be involved in her community since she was young and has continued this through adulthood, she said. 
"Voting has always been important to me and my family," Ireland said. "My mom has always taken me to the polls with her and has always stressed the importance of it to me. It's been the same with civic engagement. We've always been involved in our community and trying to make it better."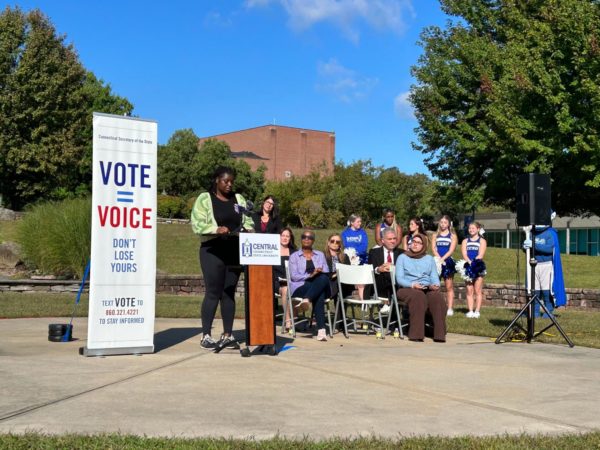 Ireland is a John Lewis Institute Scholar, a group of students on campus who work to create social change on and off the campus, she said. 
"Now that I'm in New Britain I try to help out here as well since I feel like I occupy this city so I should work to try and help with whatever they have going on," Ireland said.
On top of voting regularly, Ireland said she recommends students be involved in bettering their community year-round. 
"I really just think that it's important to get to know where you are and understand that there are ways to make your city better," Ireland said. "Make it how you want it." 
Monica Long was among the first CCSU students to register at the Voter Registration Drive.  
"I came to support, and then I realized I didn't register to vote ever," Long said. "So I decided to do it today."
As a membership coordinator for Central Activities Network, and a First-Year Experience peer leader, Long is heavily involved on campus. After listening to the press conference, she is looking to pursue civic engagement as well, she said. 
"I feel like voting is important," Long said. "Not just for presidents, but also for what's around you in your community." 
Long and other students were able to register to vote immediately following the press conference. 
"It took less than five minutes to register," Long said. "Just do it. If you don't do it, you won't have the opportunity to vote." 
While there is still the physical voter registration form on paper, the on-campus drive assisted students with registering from their cellphones.
"I advocate online because it's the easiest and it all only takes two minutes," Thomas said.