Blue Devils Football Team Picks Up Their First Win of The Season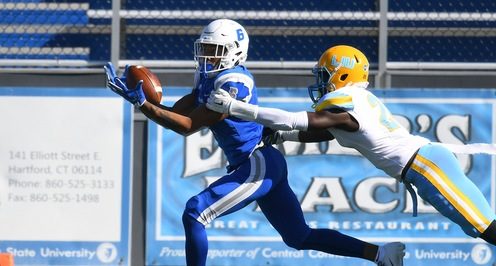 The Central Connecticut State University football team earned their first victory at home last Saturday with a 34-7 victory against their conference rivals, the Wagner Seahawks. With this victory, the Blue Devils now hold a 1-7 record, while Wagner left with a 1-7 record as well.
The Blue Devils finished the game with a total of 143 passing yards and 281 rushing yards, while the Seahawks finished with 218 passing yards and 32 rushing yards. The Blue Devils controlled the time of possession throughout the game, totaling about 41 minutes of possession compared to the Seahawks' 19 minutes.
Senior running back Nasir Smith leads the team in points scored this season with seven rushing touchdowns, helping the Blue Devils secure their win.
"It feels really good to win," Smith said. "That's all we wanted to do was get a win, especially at home, and give the fans and everybody a show and a complete game in all three phases."
With only a few games left in the season for the Blue Devils, Smith wants to look forward and build off their victory.
"Finish the season strong and have fun while doing it, because that's what's most important," Smith said.
The Blue Devils' next game is on the road against their conference rivals, the Long Island University Sharks, who are coming off a second overtime victory against fellow conference rival Duquesne. The game will take place Saturday, Nov. 5 at Bethpage Federal Credit Union Stadium, and will air live on ESPN3 at 1 p.m.