New Cooking Show Brings It to the "Next Level"
Gordon Ramsay has done it again! His new show "Next Level Chef" is…well…next level.
This show is different from his other shows like "Hell's Kitchen" or "Masterchef." However, it is still a cooking reality show and still has the same intensity as his other shows.
Fifteen chefs from around the country–with skill levels ranging from social media chef to professional chef–compete to win a special mentorship from Gordon Ramsay himself and two other judges in the series: Nyesha Arrington and Richard Blais. In addition, the winner gets–as he says it–a "quarter of a million dollars" ($250k).
These chefs were different in their skills, but you can never underestimate a home chef, nor can you overestimate a professional chef. Here are a couple of highlights from the series; these stood out to me as the most interesting.
Welcome to the Next Level: Chefs Compete Before Teams
In the first episode, we are introduced to the 15 chefs competing in the series and the three judges: Gordon, Nyesha, and Richard. The chefs are told to make their signature dishes
and are split into groups of five. Then they are told to grab a random key card to go in the elevator. Wherever the elevator landed was where the teams had to cook. The first level or "basement" is a dingy, old kitchen that has very few cooking tools and ovens that barely work. The second level, or "middle kitchen," is nicer. It has equipment that may be a professional or someone straight out of culinary school would use but not Gordon Ramsay level equipment; that is saved for the third level or "top kitchen." This kitchen has the latest and greatest equipment. Stainless steel, cast iron, top-quality ovens, and fryers. This is the kitchen everyone wants to be in.
There was one scene in episode one where I had to pause and take a moment because this woman named Amber Rebold from Texas didn't even season her food. Texas is known for wild and spicy flavors, and I shook my head. However, she got better as the competition went on, and I was sad when she (spoiler alert) was eliminated.
There was another chef, too, by the name of Sergio Steeles, who stood out to me badly. One word that describes him: is arrogant. He claimed he had the best-tasting dish out of everyone in the episode and complicated himself on his dish because he wanted to show off.
Steeles got him: he was one of the last people picked. He was put on Nyesha'a team, where she told him to "humble himself," and got eliminated in the third week.
At the end of the episode, the chefs were assigned to either Gordon, Nyesha, or Richard based on their dishes. They were permanently split into teams of five.
The Winner: Stephanie "Pyet" Despain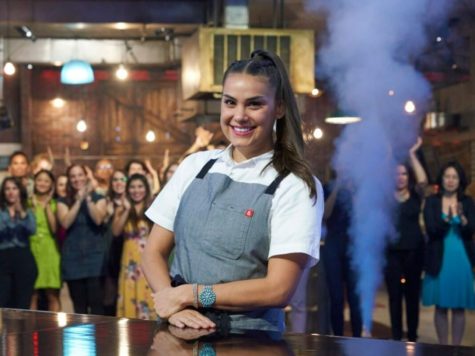 Stephanie "Pyet" Despain was an exciting chef. Despain comes from an idigenious background and is also Mexican-American. She took her Native and Mexican American heritage throughout the series and used it in her cuisines.
She stood out to me from the very beginning. I thought that she was a force to be reckoned with. She was one of the first picks on Nyesha's team and proved to Nyesha that she made the right choice.
That's not just it, though. It's the fact that she's a Native American and Mexican American who is cooking. You don't see a lot of Native American chefs, and I can't even name a famous one. That's bad!
It all had to do with colonialism in the US when settlers came to this land and occupied it. You'll have a hard time finding an indigenous chef unless you look one up.
Despain did mention this a few times throughout the series on how indigenous people don't get the recognition they deserve, and she wanted to change that. She went in every week challenging herself by making proteins she's never made before but adding her twist to them.
Despain hasn't always been on top of it, though. One week, she had a hiccup and had to compete to not be eliminated. She was put in the bottom kitchen when the number of chefs dwindled lower than ten and had to work her way to the top. In the last challenge, she didn't use her time sparingly like her contestant Ruel Vincent did, but she delivered in flavor, which won her the title of "Next Level Chef."
She stood out because she took her love of cooking and her love for her people and became an advocate for indigenous chefs. She wasn't afraid to step out of her comfort zone, and because she did that, most of her dishes won the round.
According to Eater Los Angeles, Despain plans on opening a pop-up in LA using indigenous fusion cuisine.
If you're looking for a new Gordon Ramsay show or just want a different cooking show, watch "Next Level Chef." It's a different concept than other cooking shows in which different chefs compete in different kinds of kitchens. This show is–yet another–Gordon Ramsay's success; five (Michelin) stars!