Track and Field Competes in Sole Home Meet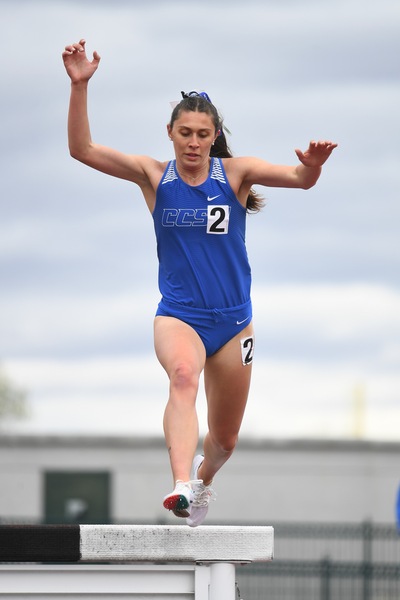 Central Connecticut's track and field teams competed at home for the first and last time this season, taking on the university of Albany in the Blue Devil Invite Saturday.
The Blue Devils' men's team bested Albany by 32 points, while the women's side were beaten by a mere two points.
The men's side has been on a tear this season. This is their third straight victory in meets this year. The 32 point win over Albany is not their largest margin of the year either; the Blue Devils finished first in the AIC Yellow Jacket Invitational with a final score of 208, 93 points ahead of the second place team.
Miles Fye-Moore led the men's team in first place finishes Saturday, winning the 100 meter event (10.70) and 200 meter event (21.70). His victories accounted for 10 of the Blue Devils 94 points.
Two of the men's seniors, who were honored before the competition along with their classmates, churned out two more gold medals for the Blue Devils.
Richard Grudzwick, who has played in a total of 12 collegiate seasons between indoor, outdoor and cross country, finished the 800 meter race with a first place time of 1:56.21.
On the flip side of things, this is senior Nick Kocienda's first season in any sport with the Blue Devils after transferring from Manhattan College. The "rookie" senior took home first in the hammer event with a long toss of 53.04 meters, nearly 11 meters farther than the second place finish.
The men's side finished the day with 10 total first place finishes.
The women's team battled with Albany all day Saturday. In the short distance runs, Albany was able to poach 20 of its final 73 points with near clean sweeps in the 100 and 200 meter events.
Ashley Dana immediately brought CCSU back into things with dominating performances in the long distance races. The sophomore finished first in the 800 meter event by five seconds (2:17.75) and won the 1500 meter event by nearly 12 seconds (4:37.73).
Hailey Rospierski also won two events for the Blue Devils. The senior finished the 100 meter hurdles event with a first place time of 14.86 and marked the farthest in the long jump finals at 5.38 meters.
If the Blue Devils crossed the finish line of the women's 4 x 400 relay event a second sooner, they might have finished first overall on the day. Albany finished first in the 4 x 400 with a 4:13.28 time, just barely edging out CCSU's 4:14.73 time. Albany's victory resulted in a two point swing for the Great Danes.
The Blue Devils will be back on the track on May 1 and 2 for the Northeast Conference Championship, held this year at Bryant.