"Play the Hits!" Volume Five: April 21, 1977
Welcome back to another edition of "Play the Hits!", column where we pick a random year in music history and look at the Top Five on Billboard's Hot 100 for the week. This week we will be covering 1977. Unfortunately, Fleetwood Mac's smash hit Rumors, which came out in '77, did not make the Top Five for this one. Instead, we've got one of the greatest rock songs in history earning a spot, along with one of music's most underrated session musicians. Without further adieu, let's dive into this week's Top Five.
5. The Things We Do For Love – 10cc
This song is terribly boring. It's pretty catchy, but it sounds like you took the sound of every successful pop band, blended it together and made this. I know I am already being a hater, but the vocals on this just don't do it. It sounds like they were trying to go for a Queen type melody ala "Killer Queen," but Eric Stewart certainly does not have the same conviction in his voice that Freddy Mercury did. I don't hate the 10cc! Songs like "I'm Not In Love" are amazing. This is the first song the group recorded after two of their founding members left the band. Maybe they were trying to find their groove again. It didn't work (for me!!!) and that's okay. But why was this number five?
4. Don't Give Up On Us – David Soul
Okay, before we get into the music here, PLEASE watch the music video. I can't pin down exactly what it is that makes it so hilarious, but I simply can't stop watching it. It's basically just a headshot of David Soul staring directly at the camera and lip syncing his butt off. At first, it was creepy. After 30 seconds, all you can do is laugh.
This song is pretty boring, too, I'm afraid. It's basically just Soul, sometimes double tracked, accompanied by some orchestration that sounds more like elevator music. There is a cover of this by Owen Wilson that was recorded for Starsky and Hutch. Listen to that one instead. Fun fact, it pissed off Soul so much that he allegedly re-recorded the song after hearing Wilson's version.
3. Hotel California – The Eagles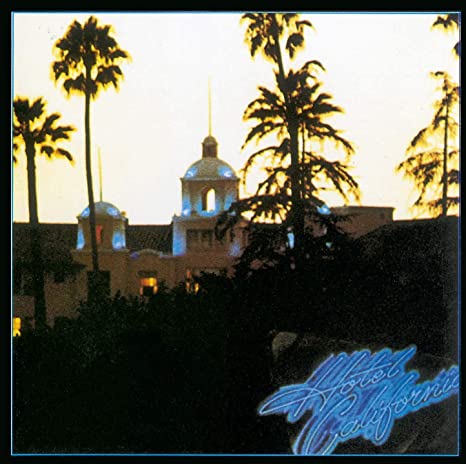 Possibly the most overplayed song in rock and roll history, coming in at number three we have the Eagles' astronomical hit "Hotel California." Other than the fact that I've heard it roughly 6,000 times, it's hard to find any critiques of this one. It won Record of the Year at the 1978 Grammy's and honestly it could be record of the decade.
Henley's vocals sound so entrancing when they're paired with Felder's 12-string guitar. The chorus has the familiar Eagles' feel of some beautiful harmonies, but the ending of the song is what steals the show for me. The great Joe Walsh battles Felder in a guitar duel akin to "Free Bird," trading licks and sometimes harmonizing on them. According to the Encyclopedia of Great Popular Song Recordings, it took Walsh and Felder three days of practicing to master the syncopation of one another and lay down the final version. What came out of those three days is one of the greatest guitar solos in music history. To leave with another fun fact, this song has been performed by the Eagles 1,038 times. One thousand and thirty eight.
2. Southern Nights – Glen Campbell
Glen Campbell is one of my favorite artists from the this time period and in my opinion, one of the most underrated. Starting out as a session musician, he recorded sixty four albums over his five decade career.
Campbell's guitar work is his greatest skill to me. He may not show it on "Southern Nights," but other works like "Gentle On My Mind" showcase his skill best.
Before we get into the song itself, let's go over its bizarre recording history. "Southern Nights" was written and recorded by Allen Toussaint for his 1975 album Southern Nights. Then two years later…Campbell took the song then also named his album Southern Nights? I don't know, weird move to me. But looking at the music, Campbell's version is far superior. It's a fun, kind of goofy song. Between Campbell's iconic southern twang and the banjo, the song puts you into its title's setting. The music sounds like a southern night, and I have never wanted to experience that until I heard this song (I don't actually, but the vibe is there).
Don't Leave Me This Way – Thelma Houston
"BABYYYYYY!" Thelma Houston bursts into this week's list with the funky track "Don't Leave Me This Way." This was a perfect pallet cleanser from the other four from this week. Houston's powerful vocals are accompanied by a thumping bass line that makes it impossible not to bob your head to it. The background vocals in the chorus give it that exciting feel of '70's soul. This era inspired the ensuing generations of R&B, along with countless other genres. In many ways, it was something new entirely. The talent of this era's artists make it sound like they've mastered the art of song over decades when most were laying the groundwork.
Halfway through the song, the tambourine starts bumping and a faint keyboard riff is heard behind Houston's vocals. That's when you fully strap in for the funk. It's a quintessential disco hit, but the craziest part about the song to me? It was originally intended for Diana Ross!