5 Ways to Elevate Your Ramen Game
I must have cooked instant ramen more than any other food in my life. As a kid, my mom would buy ramen packs in bulk. It's what my brother and I ate while she was at work, it's what I eat in college when funds are low and it's even gotten me through the occasional hangover.  
Instant noodles may seem like a sad excuse for a meal with their MSG packed broth, flaccid noodles and tiny freeze-dried nubs of vegetables — and it could be — but with a little ingenuity and minimal effort ramen has the potential to become a satisfying, mouthwatering meal packed with rich flavor. 
Over the years I've found five easy ways to upgrade instant ramen while simultaneously using leftovers and lingering vegetables. 
Use Your Own Broth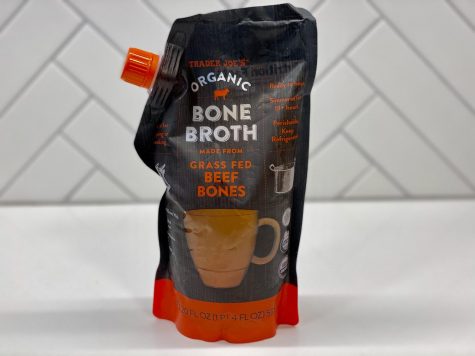 Replace those salty MSG filled packets with your own broth. I typically use whatever I have lying around my apartment; personally, I like Trader Joe's chicken bone broth, but you can use whatever you prefer. If you're trying to be salt-conscious, go for a low sodium option.

 
Sauce it Up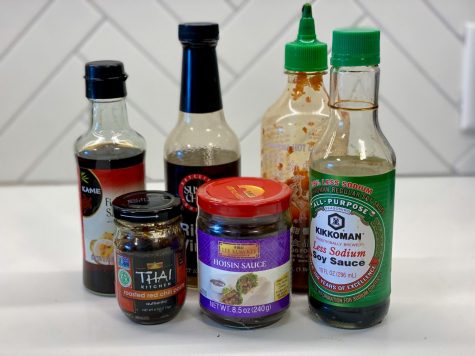 If you're like me, there is always a least half a dozen open bottles of sauces in the fridge. This is the perfect opportunity to put them to good use. Incorporate your favorite sauce to the broth for depth of flavor. Don't be afraid to experiment. I normally stir in a tablespoon of soy sauce, hoisin sauce and a few dabs of sriracha.

 
Use Those Veggies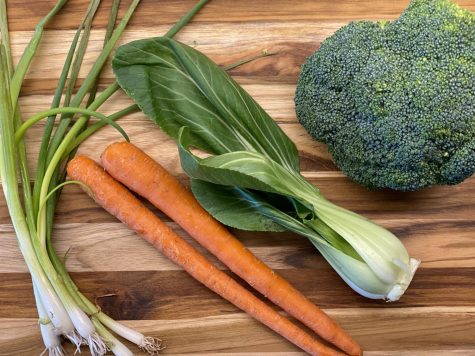 This is where it starts to get exciting. Browse your fridge for any vegetables that need to be used up. Look for mushrooms, carrots, cabbage, spinach and more. Bonus points if you happen to have bok choy in the fridge. If you don't have fresh vegetables, you can always toss in frozen veggies like peas, corn and broccoli.
Protein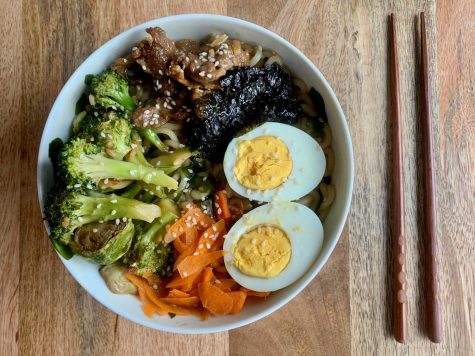 I love eggs. I add them to just about everything and instant ramen is no exception. I like to boil an egg separately for six minutes to create a firm, yet gooey yoke. But don't stop there. Add some chicken, tofu, pulled pork, steak or whatever leftover protein you have from last night's dinner for even more savoriness.
Top it Off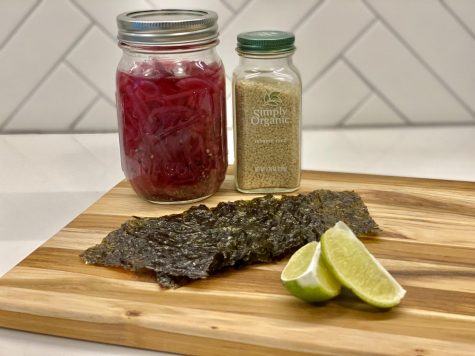 Top off your ramen with a few extras for added texture and color. Add some citrus like lime and fresh herbs like chives or cilantro. I normally top my ramen with a pinch of sesame seeds, pickled onions, a couple strips of nori (dried seaweed), chopped up scallions and a few drops of sriracha and roasted sesame oil.

 
And that's it. A few add-ons and a little extra time are all it takes to transform a lowly packet of instant ramen into a delicious bowl of savory goodness.    
Here is the recipe to a bowl of ramen I made last week following these 5 tips.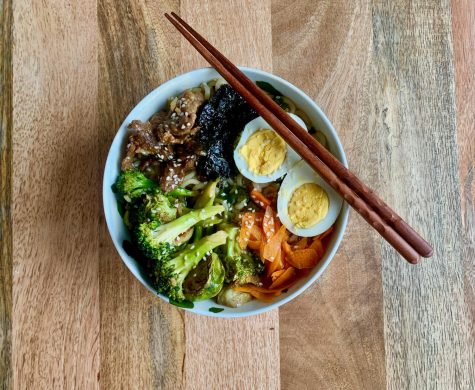 Cook Time: 10 mins
Total Time: 15 mins
INGREDIENTS
1 tablespoon cooking oil
1/3 cup grated fresh carrots
1 handful broccoli

 

1 cup broth
1 cup water
1 package instant ramen

 

½ cup shredded beef (or whatever protein is on hand)

 

1 large egg
2 nori sheets sliced

 

Pinch of toasted sesame seeds

 

Sriracha and soy sauce to taste
INSTRUCTIONS
Add the oil and broccoli to a small pan and sauté over medium heat for about two minutes.
Add the broth and water to small sauce pot and bring to a boil.

 
Once boiling, add the uncooked ramen noodles. Boil for about 3 minutes, or just until they are tender. Do not overcook the noodles!
Stir ½ tablespoon of sriracha and 1 tablespoon of soy sauce to broth.
Turn the heat down to low, then incorporate vegetables.

 
Crack the egg into the broth and let sit for about six minutes, or until the egg whites are cooked and the yolk is still runny.
Transfer the soup to one or two bowls, then garnish with noir and toasted sesame seeds
Add a few extra dabs of sriracha to taste.