The Rebirth Of Women Elected In Power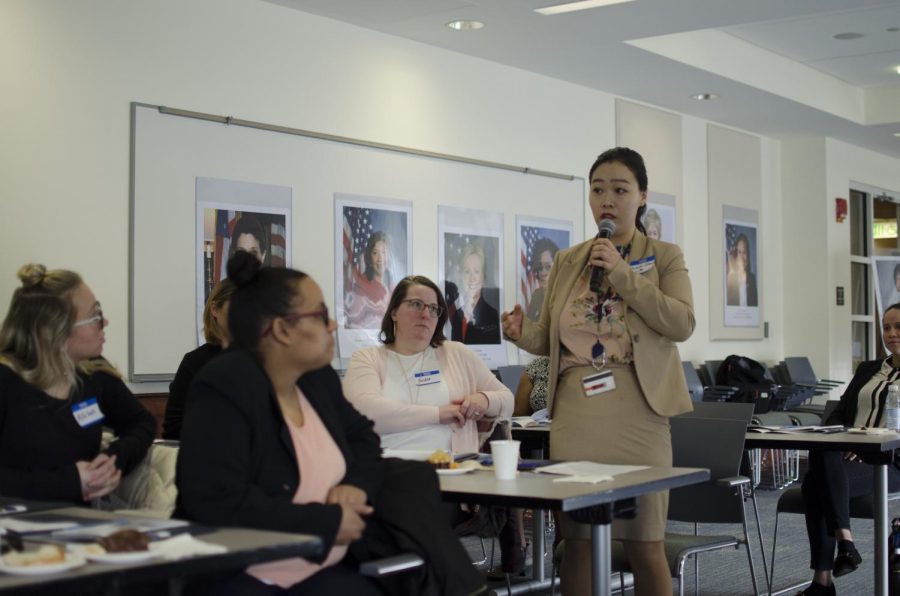 Women make up half of the population in the world, but they barely make up one forth of the elected leaders, according to the Center for American Progress. The problem is that there are not enough women running, and Elect Her wants to change that.
"When women run, they win at the same rates as men — the problem is that there aren't enough women running," Elect Her program pamphlets stated.
Women in the past made great efforts to achieve all the rights they deserve, however, the United States is still behind in progressive compared to other nations.
Event Facilitator Kate Farrar, former executive director of Connecticut Women's Education and Legal Fund, stated the U.S. falls 75th in women's political participation in the world. Even during the 2018 midterm election, in which the largest amount of women ever ran, only the 24 percent made it into Congress.
Vice President of Student Affairs Michael Jasek explained that this country needs a "paradigm shift." Several women ran in the primary and only one is still standing, which means that the United States will end up with 'another white male of privilege in the white house'."
"Now, it is the today's women's turn to ensure that females have equal representation in government," President Dr. Zulma R. Toro stated during the event.
And this is what Elect Her is for, to provide a one-day nonpartisan training experience for women looking to run for student government and political office. It has now become a national squad of women in college campuses across the country, with trainings held at 118 schools, 40 states, and 4 different countries.
Elect Her is a program that helps women gain leadership skills and learn how to create a campaign and run for any position. Also, it helps to connect and network with females in the community and feel supported to achieve one's goals.
"We are going to leave here not just to elect ourselves, but to elect everyone in the room, because that is today's power and the power of women supporting women and reaching a new bounce in women's leadership," Farrar stated.
"We are changing the face of our political candidates," CCSU Elect Her Student Coordinator Emily Hogan said, as stated on the pamphlet. "The more women we empower in college, the more women will have the confidence to become elected officials and make a positive impact on the world."
As part of their training, attendees participated in many different exercises involving constant interaction amongst one another and speakers.
For the first exercise, participants had to think about an issue they cared about and solutions to implement. The participants shared some of the concerns – such as violence against women, education policies, environmental problems and equal pay – while also being able to connect with someone else that shared similar views.
After that, a panel of three female senators from Student Government Association shared their experiences of running for office allowing participants to learn how creating a campaign works.
"I think a lot of times with women, when we're put in positions where we're allowed to be assertive, we feel that we have to take each other down in order to show our strength. And this isn't strength, it is very weak to attack other women when we should all be supporting," Cheyenne Bermudez, resident senator and vice chair of internal affairs, stated.
"I don't think we realized the power of our voice, especially as women leaders," At-Life Senator and Chair of Student Life Briana Kuo said. "We have such a strong voice that we need to use it more."
New Britain Mayor Erin Stewart was initially scheduled to attend the program but could not make it.
Attendees then participated in "the elevator speech" exercise. Participants, placed in four groups, had to give a short description on an issue of their choice. Each group had to vote for the best candidate and the four most voted went against each other, until only one final candidate remained standing.
In the end, all participants that stayed and completed the Elect Her program received the certificate in Women's Leadership Training.
As Farrar explained, women feel like they are making progress, but they often also feel like there are constant barriers in the way; through this training, it is hoped that these women will learn how to break down and counter these barriers. To fix that, Jasek noted that society needs to take a step back and educate women in all levels of schooling so that they know they can study math, science, journalism and engineering.
"Now it's going to be your time to orchestrate your renaissance," Jasek added. "Make sure that you don't tear each other apart, men don't do that and that is why they have power."