Donyell Marshall Previews New Look Blue Devils
Familiar faces will be few and far between for Blue Devil men's basketball this year, with more freshmen joining the team (seven) than returning players (six).
Last season, Central Connecticut missed out on the post season, posting a 5-13 record in the Northeast Conference. Despite rolling out a strong roster headlined by Tyler Kohl, Joe Hugley and Jamir Coleman, the Blue Devils were never quite able to get things rolling in the conference. CCSU had its fair show of impressive streaks throughout the season, including a double-overtime win against Fairleigh Dickinson, who represented the NEC in March Madness. Some of this can be boiled down to a chemistry that was missing among the team, a chemistry head coach Donyell Marshall is happy to see in this year's team.
"These guys like being around each other," Marshall said. "It's a team that really cheers for each other and wants to be around each other."
One of the players leading the charge for Central this year is one of the few and key returnees for the team, senior Jamir Coleman. In his first year at CCSU out of junior College South Palms, Coleman quickly asserted a place for himself in the starting five, ranking third on the team with 12.1 points per game and scored a career high 27 against Robert Morris.
The 6-foot-7 forward is still adjusting to the leadership role this year for the Blue Devils, but Marshall believes there has been plenty of improvement.
"Sometimes it's hard when you don't really have someone to teach you different things like that," Marshall said. "But he's trying, and I think that the younger guys are really trying to follow him."
Marshall added that Coleman is not the only Blue Devil to step up so far this off season.
"We've got some of the younger guys who are really good leaders themselves," Marshall said. "It's actually been a good mixture."
Central's other returning starter, Ian Krishnan will likewise be looking to improve upon an already impressive first season with CCSU.
Krishnan was lethal at the three point line last year, knocking down 71 threes for CCSU (ninth-most in a season for CCSU) at an efficient 34 percent clip. The sophomore guard should play an integral part in this year's offense.
The new faces taking the court for CCSU this year are some that Marshall believes the Central fans will have a lot of fun watching, specifically pointing out Myles Baker, Greg Outlaw and Jamir Reed.
Baker comes to CCSU as one of the best scorers in the competitive hotbed of high school basketball that is Chicago and was ranked among the top 10 prospects in Illinois. At 6-foot-4, he brings some good size to the wing position and a variety of skills, averaging 16 points, five assists and five rebounds per game in his senior season at Whitney Young High School.
Outlaw is another 6-foot-4 freshman wing out of Chicago who brings a strong brand of defense to the table.
Like his coach, Reed grew up in the Philadelphia area and was a prolific scorer at Master Charter North, averaging 22 points a night in his senior season.
Of course, these three are still raw prospects for the Blue Devils, only a few months removed from high school ball. Marshall notes that, explaining how, "We're just taking it one day at a time, trying to get them to understand that the classroom is just as important as the court."
However, Marshall has already seen some promise in the young core.
"They're doing really good, they're coming along for sure," Marshall said. "It's a group that really wants to work hard. They want to learn, they want to listen. Sometimes they have what they were able to get away with in high school; you're bringing together a team where they were all the best player in high school, now you're bringing them together as one. The thing is: they like each other, they want to be around each other, and that's always a good start."
The lone big man listed on CCSU's roster, freshman Ola Olamuyiwa, brings some much needed height to the Blue Devil's front court, clocking in at 6-foot-9. In his coaching career, Marshall has helped developed some impressive big men, including Matt Lopez at Rider. Despite his tall stature, Marshall clarifies that he picks no positional favorites in his coaching style. However Marshall does note some similarities between this year's big men and Lopez.
"For me it's not necessarily just about the bigs," Marshall said. "I played a couple positions myself, so I can help out wherever. A lot of people think that because of my size, it's just about the bigs, but for me it's mostly about developing all of the players. I was lucky to have a guy like Lopez who wanted to learn and wanted to get better, and the bigs here are the same way. They're in the gym everyday like Lopez was, and they want to get better, so it's always a joy to see that."
After an exhibition game against Coast Guard, the Blue Devils will officially kick off the season Nov. 5, hosting in-state rival Hartford. This will be the fifth year in a row the two teams open up their seasons against one another, with the four year series currently tied at two games a piece. To look even further back on the Blue Devil-Hawk rivalry, Marshall won his first game as CCSU coach against Hartford in 2011.
"It's a big game, it's a rival," Marshall said. "You want to win that first game, it's a good way to start the season. For us it's all about the conference though. It's important for us to continuously get better after that game."
About the Writer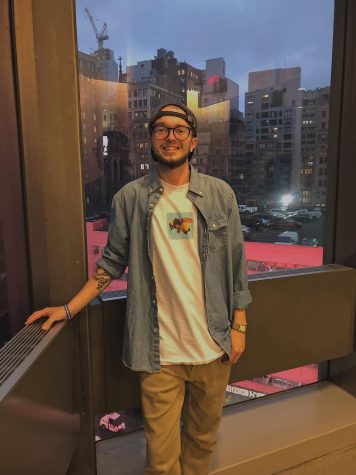 Ryan Jones, Editor-in-Chief