Minimum Wage Change May Not Be So Great
LITTLE FISH IN A LITTLE POND
The Underground Deli is infamously known across the Central Connecticut campus for its 50 delicious, eccentric-named sandwiches, like "The Hypocrite" and "One Hot Chick", to choose from and the welcoming atmosphere, it is no wonder why customers are always coming back for more.
Nicole Hale has been running her deli shop since 2014 and has found much success in her small business. But things are likely to take a turn for the worse for Hale now that Governor Ned Lamont's proposal to increase the minimum wage is finally approved by the House of Representatives.
The approved House Bill 5004 states the current minimum wage of $10.10 per hour will gradually increase to a fair wage of $15 over the next four years..
The increase is said to be a fair, livable wage for Connecticut residents and would keep current residents from fleeing the state, according to Lamont, but small business owners would beg to differ.
"On paper, it's a really good idea but I just don't see it working out how we want it to," Hale said.
"I would have to cutback on my payroll, so people would lose hours and then I would have to do more myself, which I don't even want to do. I would rather [my employees] work but if I can't afford it then I just can't do it," Hale explained further.
Hale and her five employees work diligently to keep the sandwich shop running smoothly and productively for its customers. Despite being paid the minimum wage of $10.10 per hour, the employees often earn "decent tips," and walk away at the end of the day earning almost $13 per hour, Hale claims.
The Underground Deli could survive with the new minimum wage, but even so the employees would suffer and  lose out on working hours or could potentially lose their jobs in the process.
"If the number of jobs shrink because of [minimum wage increase] then people are still going to leave so how is that solving a problem?" Hale countered Lamont.
The $15 wage would simply be disproportionately beneficial for a small business, like The Underground Deli, compared to larger businesses and franchises.
Although, Hale recognizes that the current minimum wage is not exactly a liveable one, she suggests there are other alternatives to making it easier on other businesses like hers.
"How much an employee makes should be based on maybe a percentage of how much that company makes or profits. Like I don't make as much as McDonald's does so I think I should have to pay a little less than minimum wage," Hale offered.
Along with Hale are a number of local businesses who have issued public testimonies opposing the proposal and have recommended their own ideas to make the minimum wage change lighter for them.
Jonathan Edwards, owner of Jonathan Edwards Winery Association and President of the Connecticut Vineyard and Winery Association (CVWA), is opposing SB 2, HB 5004 and HB 7191 on behalf of the CVWA.
While the ethics behind the legislature is understandable, CVWA argues Connecticut is "one of the costliest places to do business in the country."
With the current "weak economic climate," and short time frame, increasing the minimum wage would only counteract Lamont's goal to heal financial wounds.
SHOW ME THE MONEY
Since the 2018 Gubernatorial Election, Lamont has brought forward several ambitious plans for which he claims will better Connecticut for a long lasting, sustainable future. One of his most significant proposals being the increase of the state minimum wage.
Several bills, including SB 002, HB 5004 and HB 7191, have been advocating for the wage to gradually go up 12 percent over a four-year period, thus leading to $15 an hour by 2023. Connecticut will be added to a list of other states who are enacting a $15 minimum wage, including New York, California, Massachusetts, Illinois, Vermont, Maryland and New Jersey.
A number of businesses and organizations have rallied behind the bill because of the benefits it is likely to bring to low-wage workers in the state. Connecticut Voices For Children argues that the stereotypical low-wage worker is no longer a teenager trying to make a couple extra dollars but is realistically a 30-year-old adult trying to support their family.
According to the Labor and Public Committee, over 60 percent of low-wage workers are 25 or older, while only 10 percent are under 20 years old. Many of those in low-wage jobs are overqualified and have long-term experience in the food, retail and medical field.
"Working families are central to our state's success and we need to do more to support their long-term financial stability," Lamont said.
The HB 7191 claims,"raising the minimum wage will lift families out of poverty, reduce the burden on state services and help grow the economy."
"A $15 minimum wage, enacted responsibly and over time would raise wages for almost a third of our workforce. A third of whom are female workers, forty percent of whom are African-American workers and more than half of whom are Hispanic workers," Lamont said during his budget proposal.
Democrats showcased similar evidence and data to support their stance of increasing the wage. When the Democrats and Republicans came head to head during House a 14-hour debate on the matter, it only emphasized the divide on the decision. In the end, the vote came down to 85 – 59 in favor of increasing the minimum wage to $15 an hour.
With the new wage increase, there is high hope for better financial stability for Connecticut residents and more productivity in the work environment.
BIG FISH IN A LITTLE POND
Jamie and Cheryl McDonald, co-owners of Bear's Restaurant Group, know firsthand the benefits of a $15 wage for their employees. It is essential part of what makes their business successful for themselves and workers.
Having been part of the food industry for just over six years, the couple has started a miniature franchise with six successful restaurants across the state. But for such success to occur, they needed more qualified and motivated workers.
"It will help us attract higher-caliber employees which turns into better service and just has a snowball effect," Jamie McDonald stated during an interview with Hartford Courant in 2016. "But more so, we have been lucky enough to be pretty successful since we opened, and it's a good way to be able to share that success with our employees."
Prior to the interview, Bear's Smokehouse had three locations and now have added three restaurants to their chain, along with securing vendor positions at the XL Center and Dunkin' Donuts Park.
But despite their own personal success, the McDonalds do not view the $15 wage as a power move for every business.
"I don't necessarily think it should be mandated because not everyone is necessarily doing well," Jamie McDonald continued in the Hartford Courant interview. "It could easily put you under."
WHAT COMES NEXT?
The minimum wage will begin to change this year on Oct. 1 to $11, followed by four other pay increases on Oct. 15 each being less than $1. According to the H.B. 5004, the proposed increase will result in increased costs of $1.1 million in the fiscal year of 2020.
The bill states that rates for trainees and employees under the age of 18 will be paid a minimum of $10.10 per hour for their first ninety days or 200 hours of employment. This is said to keep the new wage change manageable for small businesses and employers when hiring new help.
It is undetermined yet as to how the new bill will influence "tip credit" for some employees who rely on a lower minimum wage and gratuities.
The labor commissioner is said to make changes to H.B. 5004 along  the way if the bill creates negative growth for two consecutive quarters.
About the Writer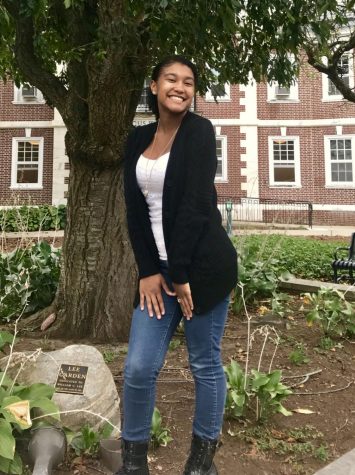 Isabella Chan, Editor-In-Chief
Isabella Chan can be reached at chan2017@my.ccsu.edu.