Ukraine Made America's Mistake – Maybe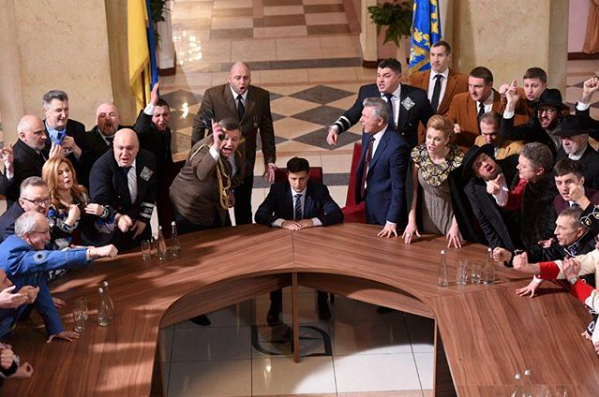 A comedian who plays a president on TV is now Ukraine's president-elect, his rise to power reflective of the people's desperation to stray from the political elite who threw the country into a war with Russia that remains in deadlock.
However, when my mom, a Ukrainian gal hailing from the bustling capital of Kiev, read the news of Volodymyr Zelenskiy's sweeping 73 percent win over incumbent President Petro Poroshenko, her response was blunt and chilling: "Ukraine is so effed." But is it?
Ukraine is in peril. Its GDP dipped drastically in 2013, according to the World Bank, and while there has been some slow growth since 2015, the International Monetary Fund released data in 2018 that shows Ukraine is now the poorest country in Europe, falling behind Moldova, Belarus and Russia, the Kyiv Post wrote.
Moreover, the United Nations confirmed that the death toll in the war in eastern Ukraine has reached 13,000 since Russia illegally annexed the Crimean peninsula in 2014. That includes 3,300 civilian deaths, among them the 298 passengers and crew members killed when Russian-backed separatists shot down Malaysia Airlines Flight MH17. Additionally, 30,000 have been wounded from the conflict.
Poroshenko did not reach the level of effectiveness he promised he would with the economy or with ending the war in Crimea. Though he took a hard stance against Russia's invasion, Poroshenko's poor crackdown on political corruption – or, really, his lack of a crackdown – only deterred foreign investment. This stalled the economy's improvement to the point that Ukraine's finance minister said it would take the nation approximately 50 years to reach "the same economic strength as Poland," Vox reported.
Zelenskiy's campaign promising to rekindle peace talks with Russia, crack down on corruption and reinvigorate the economy resonated with the Ukrainian people, leading to his landslide win. And there's no denying that he's relatable: he's young, funny and is an expert at leveraging social media to directly communicate with voters.
But Zelenskiy's political background is reminiscent of President Donald Trump's: he has none. Yes, he has a law degree, so that makes him somewhat more "official," but at the end of the day, he is a comedian, playing a schoolteacher who accidentally becomes the president of Ukraine on his show "Servant of the People" – you can watch it on Netflix.
This has raised the concern that Russia will easily take advantage of Zelenskiy's inexperience, Poroshenko claiming in a tweet that "Ukraine could be quickly returned to Russia's orbit of influence." Russia's prime minister, Dmitry Medvedev, saying that Zelenskiy's election "is a chance to improve the relations with our country after all," according to the Associated Press, raises some brows.
And all of Zelenskiy's promises are vague. They sound great, but he has offered zero explanations for how he is going to achieve anything that the Ukrainian people voted him into office for. Again, that kind of obliviousness to the course of reality is similar to how Trump laid out his policies on the campaign trail.
To cause greater alarm, there is the suspicion that Zelenskiy is simply a puppet for oligarch Igor Kolomoisky. "Servant of the People" runs on Kolomoisky's network and he is Poroshenko's long-time political rival, Vox detailed. Both have denied these ties. At home, Trump still denies his campaign's ties to Russia even though the Mueller report caught six of his former advisers, five of whom have pleaded guilty.
Time can only tell whether Ukraine is truly screwed. Until then, I know I'll be seeing a lot of my mom's facepalms.