Thank You, CCSU
Hang on for a minute...we're trying to find some more stories you might like.
My first hard news article for The Recorder was on 2016 presidential candidate Jill Stein campaigning on campus. I was a freshman. The story—my first attempt at somewhat serious journalism whilst a newbie in a newsroom setting—made the front page.
I should've known then that that experience would be indicative of what kind of university Central Connecticut is.
I was initially unhappy about coming to CCSU. I'd been accepted to more "prestigious" colleges, but like many of my friends, could not afford them, even with financial aid. Central had been my safety school and my very last choice. Unfortunately, I fell victim to the stigma that I would not be able to explore my full potential by being a student at a public university. But boy, was I wrong.
Being thrown headfirst into an opportunity like covering a presidential candidate as a freshman is emblematic of CCSU's high caliber. The Recorder gave me the chance then to get an early taste of my career and I don't see another college's student newspaper being so generous to a newcomer.
It didn't end there. CCSU may be small, but it has provided me with big openings. As a double major in journalism and political science, this university has introduced me to programs, projects and professors that advanced me further in my career path.
CCSU really delivered in 2018. I got an internship at a local newspaper with the help of the Career Success Center and professors in both of my majors continue to push me toward more outstanding internships and other possibilities. Though that means lots of drafts being sent back with harsh critiques and constant deadline reminders, I know I am being continuously challenged so that I can become better.
Here, I've been able to participate in works like the journalism department's mental health magazine, for which I did a podcast that was a winner in a New York Times contest. I've been able to be a panelist during a live-on-the-air CCSU/Fox 61 debate between congressional candidates during the 2018 midterm elections. I've been able to produce work for The Recorder that I'll be proud to submit as writing samples when applying for jobs.
I've been this paper's news editor for a semester now. Last year, I was the copy editor, and before that, a staff writer. I've grown from that freshman thrust into action. Yes, these opportunities I mentioned, including my climb in The Recorder, wouldn't have ended in success if I hadn't put in the work. However, it was CCSU and its faculty, staff and my Blue Devil friends that afforded me these opportunities in the first place.
Just because Central is smaller and "public," that doesn't mean it lacks gigs for its students. It is a door for anyone, regardless of what walk of life they hail from, to become masters at their aspiring craft. We may not have as many resources as other schools, but we manage just fine.
I am thankful that I am a Blue Devil. If I hadn't enrolled in Central, I wouldn't have joined The Recorder and become part of an incredible staff of people. I wouldn't have landed a win in The New York Times without the podcasting skills Central gave me. I wouldn't have gotten a place on the political panel.
I feel confident being a journalist crafted at CCSU and I am so excited for what my remaining semesters here have in store for me.
I told you this would get sappy. Sorry, not sorry. Thanks, CCSU.
About the Writer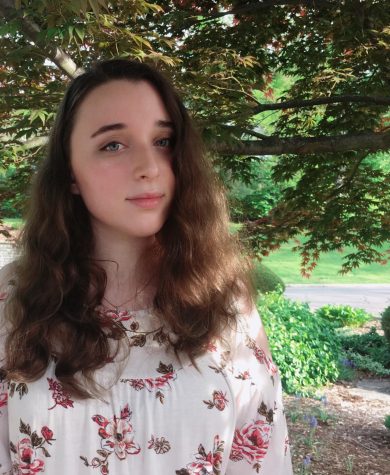 Kristina Vakhman, News Photography Editor
Kristina Vakhman can be reached at news@centralrecorder.com.