Broadside Gives A Taste Of 'Paradise'
Natalie Dest , Arts and Entertainment Editor
November 29, 2018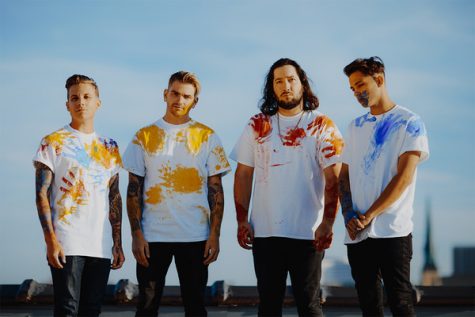 Virginia natives Broadside and the release of their sophomore album has only helped make their name within the pop-punk music scene. More infectious and gripping than ever before, "Paradise" is a record that fully showcases Broadside's ability at making a permanent mark.
The group released their debut album "Old Bones" to much acclaim back in Sept. 2015, opening the door for much success and praise from fans. With having to make a stronger comeback after their first album anthem "Coffee Talk," Broadside ended up creating a slightly new sound and approach with their newest record in the best way possible.
2017 release "Paradise" is an album built upon a pop-punk formula that eludes the idea to chase your dreams and happiness.
"We often put our dreams and desires to the side believing they're unrealistic, but this record is about building a bridge to reach your goals, your dream, your…'Paradise,'" lead-singer Ollie Baxxter explains. This message is continuously spread throughout the record within an accumulation of musical styles, grown musicianship and sing-along punk choruses. 
Kicking off the album is the track "Hidden Colors," a perfect opener to set the energy for the rest of the record. The immediate bouncing guitar riffs help for a perfect backdrop for Baxxter's anthemic singing, boasting a chorus made for a live crowd. On top of a driving, fast-paced drum beat, Baxxter's vocals meet the chorus with the lyrics, "Self-doubt in her mirror now, but it doesn't reflect how / She's perfect, on more than the surface." 
The following track, "Paradise," hence the album title, relies heavily on electric guitars and subtle backing electronics. Being ridiculously catchy, the song includes clean and raw vocal delivery from both Baxxter and guitarist and backup vocalist Dorian Cooke. "Paradise" hits the record's meaning through the lyrics, "Go chase your paradise into the waves, this tide will carry you, don't run away. / Light a fire that burns through the whole night. / You will shine brighter than the sunrise." 
"Lose Your Way" is one of the more guitar-driven tracks, but hits home lyrically. Urging listeners to push through obstacles to achieve their goals, Baxxter is heard to sing the lyrics, "You've gotta believe in what you want, you gotta put faith in who you are. / Do you believe in your self-worth? / You've gotta make this work." 
The track "Laps Around a Picture Frame" fully embraces the brand of pop-rock by opening with budding synths that eventually far to black as the track builds with raw, emotional vocal delivery that makes this song a memorable one. Being a song centered around how to deal with one's anxiety, this track gives the album an emotional, stripped back feeling yet to be heard. 
"Tunnel Vision" takes the record back in full swing to a more aggressive and bass-driven sound. Baxxter's vocals are almost perfectly highlighted in this track, and show how diverse his vocals can sound. This song is definitely one that is hard-hitting, a track that any pop-punk fan will find difficult to resist. 
Following track "Summer Stained" is opened solely with an acoustic guitar, a style yet to be heard on the album. Met with a laid back drum line by the second verse, this song gives listeners a softer tone that touches on loneliness and desire for acceptance. Driving to the climax of the song, the end of the track ignites in higher vocals and a heavier guitar, leaving "Summer Stained" as one of the more notable songs on "Paradise." 
Directly in the beginning, "Miss Imperius" gives avid pop-punk listeners the delighted "woah-ohs" that make any punk-anthem worthy of listening to; immediately intriguing, this track is one that is easy to tap your toe to. With numerous instrumental techniques all in one track, from slower to faster paces, varying guitar work and different drum rhythms, this is a track that more than shows the overall musicianship of the band.  
Ending the album is "I Love You, I Love You. It's Disgusting," a stripped-down ukulele anthem. This track feels like a sweet and tropical song that beams with color. Almost meant for a summer night on the beach, this track is meant to tug are your heart strings. Baxxter's vocals land delicately on the vibrance form the ukulele as he sings the lyrics, "Though the distance grows between us girl, our love won't fall apart. / I'll take care of your heart, no matter where we are," ending the album on a bittersweet feeling. 
"Broadside" is seen to explore countless sonic and lyrical journeys throughout this record, providing their fans with an incredibly diverse and dynamic product. Although the pop-punk genre can tend to become stagnant, the group never falls into those typical songwriting patterns, but constantly pushes through boundaries and creates their own sound. 
"Paradise" is a breath of fresh air that shows the band wearing their hearts on their sleeves. Reinventing the wheel, this album is meant to be a powerful pop-punk record that doesn't lose luster no matter how many times it's listened to.