Five Reasons To Binge 'The Handmaid's Tale'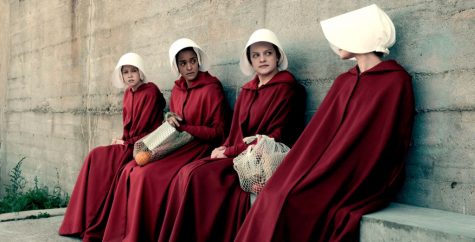 SW
One of Hulu's newest, gripping original series "The Handmaid's Tale" has caused an uproar of excitement. Based on the best-selling book by Margaret Atwood, this dystopian novel has bingers hooked, eagerly awaiting for its season three return.
Premiering back in April 2017, this show has been awarded five awards at the Emmys including Best Drama, as well as doubling its audience for season two. It is safe to say with ratings such as this, that this original series has earned the chance of your viewing. So why not consider these five reasons to binge the award-winning Hulu phenomenon over your Thanksgiving break.
Reason 1: The Dystopian Setting
The show takes place in a Dystopian future where infertility and birth rates have fallen extremely low in the United States. Now referred to as Gilead, in what used to be part of the U.S., this totalitarian society is ruled by a regime that treats women as property. The main character, Offred, played by actress Elizabeth Moss, is viewed in a society where women have no rights and if you are fertile, you are forced to conceive children for the wealthier class. This societal setting of the shows creates great interest and makes you think of a future where children are bargained.
Reason 2: Cinematography
Director Reed Morano and cinematographer Colin Watkinson created a color palette for the show that demonstrates the oppression, and somehow it is oddly pleasing. Offred says the line in the show, "They shouldn't have given us uniforms if they didn't want us to be an army." The women's flowing, dark red capes and white bonnets are bold. Inspired by the Puritan movement, these outfits are the staple image for The Handmaids Tale, and always leave you struck when you see them on the screen.
Reason 3: Characters
The characters in this series are easy to become attached to. You find yourself rooting for them, crying with them, sympathizing with them and even wishing to watch some of them fail. "The Handmaid's Tale" is no doubt a roller coaster ride of emotions, with a special thanks to the actresses that portray incredible performances. The cast is filled with some familiar faces, such as "Mad Men's" Elisabeth Moss, "Gilmore Girls" Alexis BIedel, "Orange Is The New Black's" Samira Wiley, "The Mindy Project's" Max Minghelle and "American Horror Story's" Joseph Fiennes.
Reason 4: Compelling Romances
Although the show is based upon gloom and fear, feel-good romances manage to find a way to fit into this high-intensity drama. Whether it be in the present day, before doom struck the U.S., or in the future world of Gilead, there are more than a few couples to be rooting for throughout the course of the show. For Offred specifically, viewers see much of her romantic life before and during Gilead and the relationships that build her compelling character.
Reason 5: The Show's Message
Based on Atwood's novel written in 1985, the novel and its series demonstrate the strength of women and what true feminism is. The show is a constant display of women working together and standing up for their rights. Regardless of gender, race or age this piece of work is, it is important to watch this show and evaluate our society of what it is now, and what it could be in the future.
Whether you are caught up with the hit series or are just now hearing about it, "The Handmaids Tale" is worth watching come its season 3 premiere in April 2019. If you are a fan of dystopian setting or have never really been interested in the matter, this series is an interesting, intense and more than perfect place to start.
You can stream the first two seasons of Atwood's "The Handmaid's Tale" on Hulu.