Real Friends Leave A Mark With 'Composure'
Hang on for a minute...we're trying to find some more stories you might like.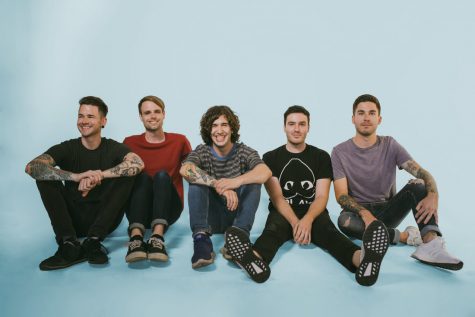 The Chicago-based pop-punk band Real Friends returns to the music scene with their sophomore record "Composure." (ALT PRESS)
Newest album release from the Chicago natives, Real Friends feels like an emotional punch to the gut — in the best way possible.
Released this past July, sophomore album "Composure" is produced with a breath of fresh air, an LP that a summer of pop-punk needed.
The record follows the band's consistent theme of mental health awareness and lyrical content that is more mature, all the while remaining upbeat, catchy and staying within its punk roots.
Touching on specific topics such as self-love and growth, lead vocalist Dan Lambton is unafraid to step into the spotlight once again about his personal issues and letting his music speak for itself. The singer has been outspoken about his bipolar disorder, smoking and drinking issues that almost tore apart the band.
However, their recent record has shown that band has finally found composure within themselves and their willingness to share "Composure" with the rest of the world. Through their lyrical growth and step up in musicality, Real Friends is making a mark in the pop-punk scene they have yet to make since.
Opening track "Me First" kicks off the album with a punchy chorus that explodes with energy and full sound. With catchy lyrics and some of Lambton's best vocal work to date, it is not difficult to picture this song in front of a crowd singing: "Why don't you put me first for once / And spare me the bad news."
Following track "Stand Steady" is a song that perfectly embodies Lambton's willingness to share his personal battles with mental health through the lyrics of: "Here I am bearing every burden / Here I am showing every worry to the world."
The song continues to discuss the vocalist's growth as an individual and the act in standing with one's head up. Only being the second track on the album, "Stand Steady's" driving guitar line and infectious melodies shows the record's musical strength early on.
"From The Outside" serves as the third track and second single released from "Composure," an anthem that left pop-punk fans more than pleased. One of the album's more "funky" tunes about the facade of happiness, when on the inside you are not okay. The darker lyrics lay between the energetic rhythm of drums and typical punk-guitar riffs. Although the lyrics, "On the inside I'm still sick / The pill's a temporary fix. / "From the outside I seem fine," may make this track a little too dark for a summertime tune, this track remains as record fan-favorite.
"Hear What You Want" and "Ripcord" are tracks that are soon-to-be concert favorites; aggressive finger-pointing in the air, screaming along to the lyrics and dancing to the intense drum and guitar lines are a given. The musical talent of the band shines the most through their fast pace tracks and somehow perfectly convey the negative feelings in the lyrics as well, specifically in these two tracks. These fun guitar melodies are sure to easily be stuck in your head, whether you want them to or not.
Following track "Composure," the song the album is inspired behind, is a high point for Real Friends and their fans. It's almost as if the record has a reached a pivotal point that was trying to be reached since the first track.
Lambton sings the lyrics, "I'm reclaiming my composure / Lately, I've been smiling, pretend to be stable," through a punchy chorus where the words once again hide behind a typical-driven punk anthem. Yet, this track seems to hit close to home to almost everyone. Even though we might be dealing with tough issues that no one knows about, there will be days where we find ourselves wearing a mask and trying to compose ourselves.
The first single of the album finally appears on the album entitled "Get By," a track that carries on the theme of mental health and the impact has not only on the individual but its effect on friendships and relationships.
With the repeating lyrics of "You'll get by while I get better," this track is a perfect pop-punk formula with evident grunge and catchy emo influences, all the while clearly sustaining the message behind it.
Closing the album is the final track "Take A Hint," a very anthemic track about persevering through the darkest of times. Being a much more positive outlook compared to the rest of the album, this song tackles having the mindset behind writing songs and being positive about creativity. 
Through the lyrics, "We'll say what we want / I'm learning to take a hint, stay convinced  / That we might see a sign for what it is," this track implies the pressure that comes with making music. Yet, when it comes down to it, anyone should feel inclined to make the music and lyrics that they want.
Overall, this record feels like an album that Real Friends has been building towards for a while. The honesty in dealing with real mental health issues is brought into the spotlight through their music, while somehow staying upbeat, relatable and musically impressive.
The band's positivity with their struggles is empowering and refreshing and their willingness to push forward resonates throughout the album beginning to end.
"Composure" is not only a catchy, pop-punk product, but rather a record that has great potential to help listeners push through their dark times and come out stronger.