Demi Lovato Continues Her Fight Against Addiction
Natalie Dest, Arts and Entertainment Editor
September 20, 2018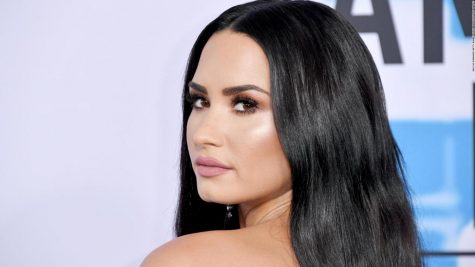 26-year-old pop star Demi Lovato is reportedly "rocked" by the death of rapper Mac Miller this past week. (Photo Credit – CNN)
In the wake of rapper Mac Miller's sudden passing from a suspected overdose, many fans and celebrities still remain shocked and mournful. However, this tragedy is especially hitting close to home for pop-star sensation Demi Lovato.
Just over one short month ago, Lovato had suffered an overdose herself and was rushed to the hospital on July 24, where she remained for the following two weeks. According to a source close to the 26-year-old, Lovato knows all too well that this tragedy could have happened to her.
"Demi has been rocked by Mac Miller's death," the source told HollywoodLife. "She feels like that could've been her, not surviving an overdose. She has been crying and fighting back tears since checking into rehab, and hearing about Mac's death has only made things more real."
The singer has always been outspoken about her addiction, especially regarding her first time in rehab back in 2012 for her alcohol, drug and mental issues. Now finding herself in rehab for the second time after breaking her six-years of sobriety, Lovato is more awake than ever and expects to only grow from here on out.
"Demi is doing her best now to stay sober and believes that Mac's death, while sad, is something she can learn from and use to draw strength from," the source continued. "Demi feels like he died so that she can live."
While she continues her treatment, Lovato broke her silence on Aug. 5 via Instagram, with a heart-warming message that promises fans that she 'will keep fighting.'
"I've always been really transparent about my journey with addiction. What I have learned is that this illness isn't something that disappears or fades over time. It's something that I must continue to overcome and have not done yet," the singer wrote.
Fans have also taken to Twitter to share their opinions regarding both Miller and Lovato's overdoses and the meaning rising from them.
"Mac Miller and Demi Lovato are prime examples of fame being toxic and heartbreak being dangerous," one fan wrote. Another fan tweeted, "I hope Demi realizes that what happened to Mac could have happened to her. I hope she truly gets better from here on out. I don't want to see her gone like Mac. I pray for both of them."
There have also been numerous reports claiming that Lovato plans to sell her Hollywood home, where she was living at the time of her overdose, in hopes to start fresh and have a clean beginning once released from rehab.
If you or someone you know is struggling with mental health and or substance abuse, you can call the national helpline for Substance Abuse and Mental Health Services Administration (SAMHSA) AT 1-800-662-HELP(4357) for immediate assistance.