Remembering Mac Miller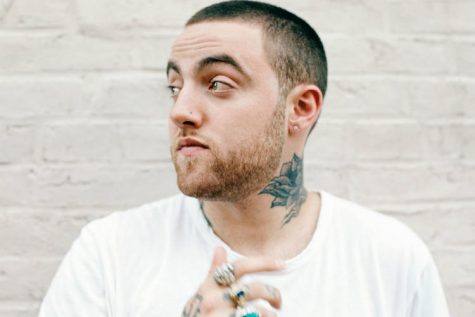 Malcolm McCormick, known and adored by fans as Mac Miller, has passed away this week. (credit – usa today)
One of hip-hop's beloved rappers Malcolm "Mac Miller" McCormick was in the middle of his headlining, cross-country tour when he unexpectedly passed away from a suspected overdose on Sept. 7.
Three days after his performance in Hollywood, officials pronounced the artist dead at 11:51 a.m. at his Studio City, California, home on Friday; fans were left devastated after given the news that the 26-year-old artist had lost his battle of a longtime drug addiction. 
Many went to Twitter to share their condolences to the family, friends and fans of the Pittsburgh-native rapper.
"Beyond helping me launch my career, he was one of the sweetest guys I ever knew," Chance the Rapper wrote on his Twitter. "Great man. I loved him for real. I'm completely broke. God bless him and his family." 
After signing to Rostrum Records since graduating high school and becoming known for his hip-hop mixtape "K.I.D.S." in 2010, Miller released his debut "Blue Slide Park," which landed number one on the Billboard 200; the first independent rap debut to do so since 1995.
Miller began rapping when he was just a teenager and shortly after, he wrestled with fame and addiction. His lyrics embodied his struggles with opiates and curated a loyal cult fanbase with his embracive rhymes about struggling with depression.
Miller was also a producer under the pseudonym Larry Fisherman and "his beats were lush and jazz-and-soul-inflected with flashes of sparkle," according to NY Times.
As a rapper, he was an intelligent lyricist and intricate poet. His style was classic in an era where the hip-hop genre is superficial and lackluster.
Since then, Miller continued to produce quality music for his genre, with his newest album "Swimming" released this past August, debuting at No. 3.
Critics discussed the disc's confident production and musicality, which stapled Miller's effect towards his personal history of substance abuse. His newest album demonstrated his confrontation with his problem and at the same time reflected a laconic sense of optimism.
Fans worldwide reeled from the tragic departure of an iconic rapper.
"My favorite rapper died today and I don't know how to feel right now other than pure shock," a fan wrote on Twitter. "Your music got me through the toughest times in my life. Rest Easy Malcolm."