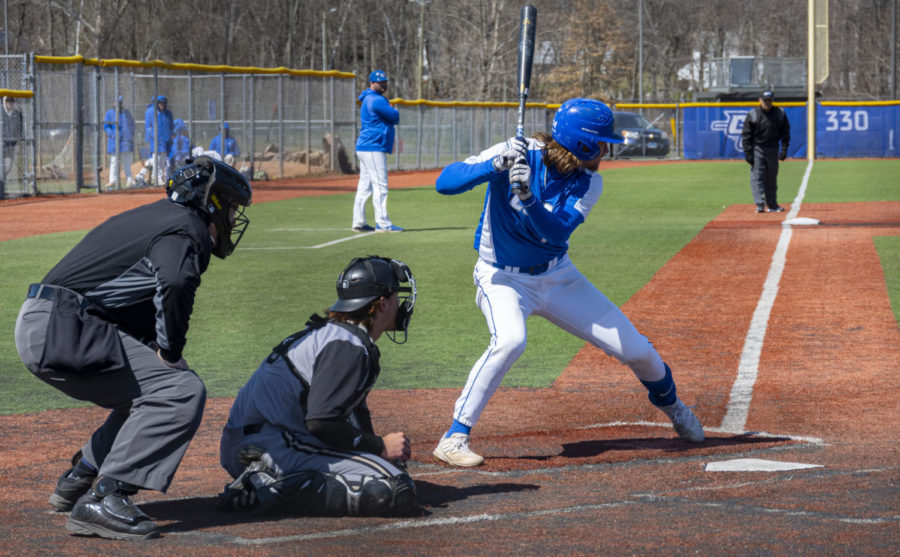 Madeline Wilson
The Central Connecticut State University baseball team capped off a three-game series against conference foe Bryant University by winning both games of a doubleheader on Saturday, April 2, at CCSU Baseball Field.
After losing to the Bulldogs a day earlier, the Blue Devils came out of the gates on fire, scoring seven runs in the first game. They continued to heat up even more as the day progressed and tied their season-high of 14 runs in the second game of the doubleheader.
Juniors Dan Covino and Noah Martinez both hit home runs, and both finished the game with three RBIs to help lift the Blue Devils to a 7-2 victory over the Bulldogs in the first game. Other standouts from game one include sophomore Hunter Pasqualini, who went two for four, and freshman Aiden Redahan, who was two for four.
Senior Sam Loda, who caught every inning of the doubleheader, came up huge in the second game by going three for four with a home run and four RBIs to help Central to the 14-1 win over Bryant. Besides Loda, four other Blue Devils had at least two hits in the second game, including senior Jay Devito, sophomore Michael Torniero, freshman Kyle Gordon, and Martinez.
The Blue Devils went 24 for 72 in the two games, with seven of the 24 hits going for extra bases. It wasn't all offense for the Blue Devils, though; strong pitching performances from sophomores Jake Nueman and Anthony Mozzicato helped silence the Bulldog's bats. The two combined for 12 strikeouts and only allowed two earned runs in 13 innings. Neuman (1-0) picked up his first win of the season, while Mozzicato (4-1) recorded his fourth.
The Blue Devils also got many impressive outings from their bullpen in the doubleheader. Sophomore Luke Garofalo closed the door on the first game by striking out five batters throughout two hitless innings. In the second game, Freshman Vincent Spizzoucco picked up the save by striking out five and only allowing two hits in three innings pitched.
The Blue Devils defeated the Bulldogs in last season's NEC Tournament to be crowned the 2021 NEC Champions and look to repeat this year. Central currently sits at the top of the Northeast Conference standings with a 4-2 conference record and an 11-7 overall record, while Bryant falls to 3-3 in the conference and 10-13 overall, which puts them at fourth place the NEC standings.
Up next, the Blue Devils will travel to Elliot Ballpark in Storrs, CT, to take on in-state rival University of Connecticut in an out of conference matchup on Tuesday, April 5, before heading home and getting back to conference play to host Long Island University in a three-game series beginning on Friday, April 8. The Blue Devils will look to hold off a surging LIU team in third place in the NEC standings.